Rose Hill Orientation Guide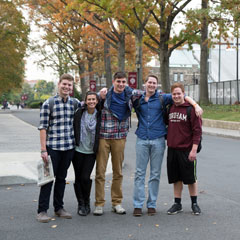 Welcome to Fordham University!
From the moment you step onto campus, the opportunities that await you are endless. From joining clubs to conducting research to grabbing a buffalo chicken wrap with friends, immersing yourself in Fordham's student life is what completes your education. We want you to experience the tradition, spirit, and community that makes Fordham University truly unique.
The entire Orientation team is more than thrilled to welcome you, our new and fellow rams, to Fordham! We are here to help and prepare you for the next four years of your life. Our University is a one of a kind, special place, and we hope that you are just as excited as we are to be at Fordham.
This website is the hub for all things Orientation- dates, what to bring, what not to bring, and everything in between. We urge you to utilize this guide to its fullest potential. Once again, we are so excited to welcome you and cannot wait to meet you in the Fall!