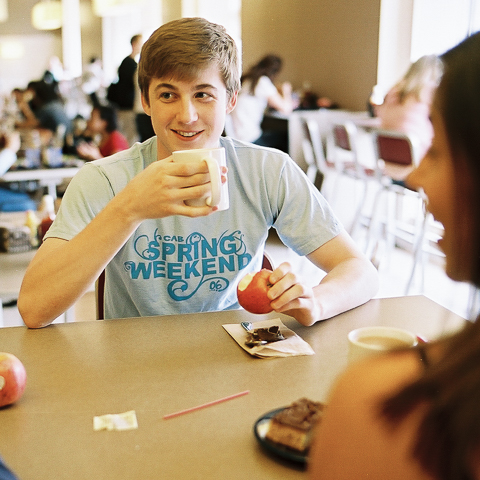 Fordham University offers dining plans that are flexible and suited to meet individual needs. Plans can be used at any location on the three Fordham University campuses in both the resident dining (Marketplace) and retail locations.
Declining Cash Balance (DCB) add flexibility to your dining options. Various dollar amounts are incorporated into each dining plan and are spent like cash! As an additional value, declining balance dollars are tax exempt.
Dining plans charges will be billed through the university for all students living in resident halls where meal plans are mandatory. Please contact the housing office directly to make dining plan selection.
Meals are provided from the first day of the semester through the last day of exams, exclusive of University closings.
For further information, please visit the Aramark website for Fordham Dining.
Meal Plan Rates Overview by Campus
Lincoln Center
Lincoln Center first-year students residing in McKeon Hall are required to participate in the Lincoln Center dining plan for the entire academic year. Meal plans are also available to all students attending Fordham University.
Rose Hill
Rose Hill residential students are required to participate in the Rose Hill meal plans, with the exception of those living in Walsh Hall, Campbell Hall, Salice and Conley Halls, and in off-campus housing.
For more information or to purchase meal plans, please visit the Aramark website for Fordham Dining.
*Dining Services is not responsible for lost or stolen meal cards. If you've lost or misplaced your card please contact us immediately or stop by Dining Services Meal Plan Office.