To BID or Not to BID?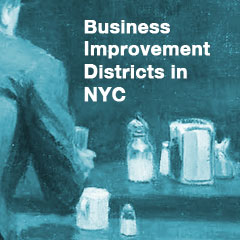 On October 30, 2019, the Urban Studies program and Political Science department co-sponsored a panel discussion on "New York City's Business Improvement Districts: Contributions and Critiques." Featured speakers were Prof. Abe Unger of Wagner College, author of Business Improvement Districts: Private Government and Public Consequences (Palgrave-MacMillan, 2016); Rob Walsh, Senior Advisor for Strategic Partnerships at Manhattan College and former Commissioner of Small Business Services under Mayor Michael Bloomberg; and Prof. Paul Kantor, Professor Emeritus of Political Science at Fordham University.
We asked two of our Urban Studies undergraduate students, Mae Symmonds and Gregory Eppinger, to comment on the presentation. Both Mae and Gregory worked as interns during the fall 2019 semester with the Mosholu Preservation Corporation (MPC) in the Norwood area of the Bronx north of Fordham. Gregory did his placement with the Jerome Gun Hill BID, while Mae worked with Northwest Merchants Association (NMA) in its effort to form a BID.
mae symmonds
The Debate on BIDs
The recent panel discussion about Business Improvement Districts (BIDs) included Abe Unger, who touched on what a BID is and its overall value and limits; Rob Walsh, who discussed why BIDs were created; and Paul Kantor, who talked about the urban economy in terms of switching to small state governance and the inclusion of BIDs within these arrangements. After hearing their views, I think that there is much discussion to be had about the proper role of a BID within society. There is much discrepancy over the overall value of BIDs because they are a public-private hybrid. continue . . .
This means that, in terms of public power, once they are formed BIDs have the power to tax the businesses and properties within their jurisdiction. In terms of private power, BIDs are considered private corporations run by a board through a local non-profit. Through the public-private hybrid, BIDs are able to tax publicly and to spend privately, which poses an accountability problem for some people.

Since BIDs are partially a public entity, they allow more people with different backgrounds to come to the table to discuss effective business practices. The privatization of BIDs allow them to branch a bit away from the city governments that they are partially a part of, as people cannot rely on city governments to have the creativity and beautification efforts that those that live in the neighborhood could. The public-private hybrid of BIDs allows them to be more successful than if a BID was simply a public or private entity.
---
gregory eppinger
What Do BIDs Do?
Students who make their daily trek down East Fordham Road towards the Fordham College at Rose Hill campus undoubtedly characterize the region by encounters with the multicultural populations, the smell of food carts, and the sound of a tattoo parlor overtly calling your attention over the clamor of traffic. However, the component separating this area from other neighborhoods in the Bronx is its unique abundance of small businesses. The organization tasked with maintaining the renowned commercial retail stretch is known as the Fordham Road Business Improvement District (BID). continue . . .
BIDs are privately owned, non-profit corporations that allocate publicly funded grants to revive and bolster small businesses inhabiting depreciated properties. These organizations require substantial resources to maintain storefronts and improve foot traffic. Last year alone, Fordham Road BID's expenses totaled an astounding output of nearly one million dollars. A large portion of the resources was dedicated to park upkeep, sanitation, and pop-up markets promoting community engagement.

The practicality of these programs and supplemental services is dependent on the size of the designated commercial areas. Smaller institutions, such as the Jerome Gun Hill BID located north of the Grand Concourse, lack sufficient funds necessary to administer equivalent assistance to storeowners. Although they are a recent innovation, Business Improvement Districts are deserving of increased financial support to further cement their integral roles expanding stability and productivity in the city's small businesses.
---
Urban Lab: Start Up Incubators in the Bronx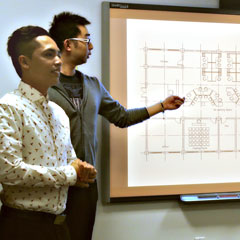 GSAS students Rico Blando and Bowen Lu use a 3D floor plan to illustrate how a co-working community space drives innovation.
The Fall 2016 Urban Lab course, featuring Fordham Law students and master's level Urban Studies students, marked the first University-wide applied research lab course on complex urban problems open to students of all disciplines, and highlights the University's new Urban Consortium, started by University Professor Sheila Foster, faculty co-director of the Fordham Urban Law Center, and Professor Rosemary Wakeman, coordinator of the University's Urban Initiatives.
There have been a lot of efforts over the years to have our University play a larger part in the Bronx, and in the sense these projects have the potential to be realized, they could be transformative for the community where Fordham is situated, explained Foster.
The lab concept is an opportunity to think beyond disciplines, noted Wakeman. For law students, it is a chance to think about urban issues, and for urban studies students, a chance to think about the legal ramifications of startup incubators in the Bronx.
Read the full story at Fordham Law News.
---