American Studies Alumni News
Last we heard . . .
Stephanie Criscione (FCRH 2015) has been continuing her law studies as a second year law student at Wake Forest University School of Law.
Angela Gonzalez-Curci (FCRH 2015) landed a position in the New York County District Attorney's Office as an Information Science Conviction Integrity Analyst. She describes herself as "a bonafided civil servant." She attended her first professional conference, the American Association of Law Libraries, in Chicago, and is considering graduate studies in librarianship and information science.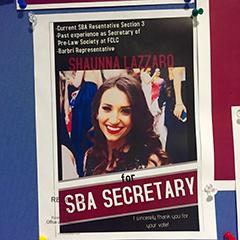 Shaunna Lazzaro (FCLC 2015) has also been continuing her studies at Fordham Law School, where she serves as the Secretary of the Student Bar Association.
Katherine Lease (FCRH 2015) spent a year working at Office of General Counsel at the Hearst Corporation, getting first-hand experience in complex litigation involving media and first amendment issues. This fall she began her legal studies at William and Mary Law School, in Williamsburg, Virginia. She plans to participate in the Special Education Advocacy clinic, continuing to pursue her goal of disability advocacy.
Michael McMenamin (FCRH 2014) landed a job at the Museum of the City of New York shortly after graduating, where he served for more than year as a Curatorial Associate and Collections Specialist. He recently relocated to the Twin Cities, where he's now working as an Executive Producer of social media content for Big Outdoors and other clients.
Amanda Pell (FCRH 2015) set out on a trip across Europe after learning that the life of a marketing employee was not for her. She chronicled her departure from the cubicle class with a memorable essay in the online journal Medium. Amanda's back stateside now, with a new gig as an Editorial Fellow for Upworthy.
Canton Winer (FCRH 2015) had been living abroad in Shanghai, teaching at New Pathway Education & Technology Group and working as a freelance journalist. You can find a complete portfolio of Canton's recent publications at https://cantonwiner.contently.com/ His American Studies thesis — "New atheism: Constructing a New Nonbelieving Identity" – was accepted for publication in the Stanford Undergraduate Research Journal.
We want to hear from you!
We're eager to hear what the vast network of Fordham American Studies alumni are up to! Please email [email protected] and let us know what you're doing these days!