Undergraduate Program for International Political Economy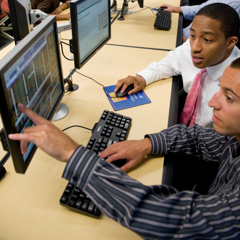 The International Political Economy Major (IPE) explores the nature and complexities of our increasingly interdependent and politicized global economy from an interdisciplinary perspective. Students who complete the major will receive training in political, economic, and quantitative analysis as well as an introduction to other cultures and the opportunity to use their electives to further specialize their studies according to their interests.
Available specializations include foreign language study and global business.
Many students will be able to use the major to prepare for employment with banks, businesses, government agencies, and non-profit organizations concerned with the global economy. Other students can use the International Political Economy (IPE) Major to prepare for graduate and professional training in Law, Business Administration, Economics, Political Science, and International Affairs.
Because of its rigor, the International Political Economy (IPE) major is open only to students of Fordham College at Rose Hill who have a cumulative GPA of 3.0 or better when they declare their major. An essay is also required for admission to the major.
Please contact the Director for application deadlines.
The major in International Political Economy (IPE) is administered by The Graduate Program in International Political Economy and Development (IPED). IPED is an affiliate member of the Association of Professional Schools of International Affairs (APSIA).