Jenn Scully
Since earning an MA in Medieval Studies, Jenn (MA, MVST '03) has been fortunate to teach Irish history at Marist College. Her specialization at Fordham was Early Christianity and Irish history, and her undergraduate work was in history education, so getting to teach within this topic has been a wonderful experience and couldn't have been better for her.
She is also the Assistant Head of School for a private boarding school in upstate NY. She has also been able to develop curriculum and offer free history enrichment classes to her local community.
She was fortunate to be at Fordham studying when Fr. Dulles was named a cardinal. She thinks of her time at Fordham as an incredibly exciting time both on and off campus, as well as in the Catholic community at large. The most valuable skill she took away from Fordham was the resiliency she had to form as she was completing her thesis. She deliberately chose a difficult topic and could not thank Dr. Gyug and Fr. Lienhard enough for their guidance, wisdom and expertise.
---
Lucy Barnhouse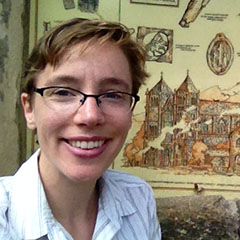 Thanks to Fordham's training in medieval studies, my post-graduation trajectory looks deceptively simple. Having defended my dissertation in the spring, I am taking a position as a Visiting Assistant Professor this fall. [In Fall 2020 Lucy is beginning a tenure-track position as Assistant Professor of History at Arkansas State University.] This progression was less straightforward than it looks in retrospect. The many skills I gained as a Fordham medievalist have helped me earn my livelihood — and explore professional opportunities — while finishing the Ph.D. and navigating the academic job market.
Mastering multiple languages is so essential to being a medievalist that I have found myself surprised by how valuable (and how rare) the mastery of such languages can be as a skill. I have an enjoyable gig as a translator for a rare books dealer, as part of which I've translated Albert Einstein's private correspondence from German, and Isaac Newton's esoteric treatises from Latin. Other freelance translating has introduced me to German press coverage of the 1936 Olympics, and a variety of German perspectives on the Cold War arms race. I've also done a great deal of freelance tutoring. I've coached students for standardized exams in English, French, and history, and spent more time talking about Latin verbs than I ever imagined I would. It's been a pleasure to discover that experience in the close reading of texts can be valuable to students struggling with the unfamiliarity of Shakespeare, or Sir Gawain and the Green Knight. I've written lessons on English literature from Beowulf onwards, and edited exam questions for history from Gilgamesh to Gorbachev. This summer, I've been working on more traditional academic projects, preparing an edition of sources on fifteenth-century leprosy examination, and an article on a women's religious community, both drawing on my dissertation research. My experience taking the Medieval Studies Certificate at Fordham, and later teaching both English and history, has qualified me for the academic post I'm now taking up, but it's also done much more. I hope to stay in academia, but I know that I'm also prepared for a number of
options beyond it.
---
Louise Bishop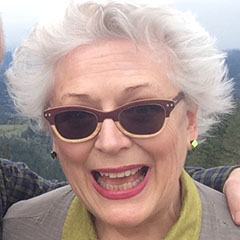 Louise Bishop graduated with an MA in Medieval Studies in 1980 and a PhD in medieval English in 1984. Among her mentors were Maryanne Kowaleski and Mary Erler. Joe O'Callahan ran the medieval center, and John Clark was the Latinist. She remembers the medieval faculty's deep investment in music, art, history, philosophy, theology, and languages which appeared in events as well as in the classroom. Likewise, Bishop recalls Fordham's proximity to the Cloisters – yes, they walked to the Cloisters – which helped situate what for many became a reality during visits for research in Europe.
After graduation, Bishop taught at the University of Oregon beginning in 1987, and she thanks Fordham for preparing her both as a medievalist and as a generalist. Now semi-retired, she has found one of her favorite classes to teach: Getting Medieval, about the way "medieval" has been constructed since the Renaissance. Among other things, the course helps students understand why the American media can, and does, refer so casually to "medieval violence." Study of the Middle Ages challenges simplistic thinking while recognizing what is at stake in the study of the humanities.
Bishop urges that especially in the United States, and especially among educators, the humanities, including the study of the Middle Ages, are essential to an informed, thoughtful, capable citizenry – a citizenry ready to imagine others' lives, and think in the long term.
---
Lou DiGiorno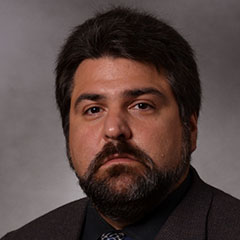 As a member of the Fordham Prep faculty, Louis DiGiorno (MA, MVST '88) is still, in a sense, a Rose Hill medievalist. He teaches Greek, Latin, and an interdisciplinary elective entitled The Quest Motif in Literature, a course which includes a number of texts revealing the instructor's background in medieval studies — St. Augustine's Confessions and Chrétien de Troyes' Yvain, ou le Chevalier au Lion seem to be the Prep boys' perennial favorites.
DiGiorno is also the Prep's archivist and school historian, working closely with the University's archivist, and writing a regular column on Fordham history for the Ramview. Having been Dr. Thelma Fenster's graduate assistant in the early '90s (and even briefly the Center's interim administrative assistant over in the old Keating Hall office), he is proud to be the Prep's liaison to the University's Center for Medieval Studies today.
Lou is married to Tara DiGiorno, FC '94, whose undergraduate work at Fordham was in classics and medieval studies. She has also taught Latin, as well as art, and has been involved with several related projects. Louis and Tara live in the Bronx and have two children, who, as one might expect, are not unacquainted with the Cloisters' permanent collection.
---
Robert Vosburgh
After earning his MA at Fordham, Robert (MA, MVST '99) worked in the Education Department of The Cloisters where, among other things, he did some research for Jane Hayward's Corpus Vitrearum volume edited by Shepard and Clark. He later earned a law degree and worked at several other museums—including The Walters Art Museum in Baltimore, MD and the Pennsylvania Academy of the Fine Arts in Philadelphia, PA—before landing at The University of Pennsylvania as a Director of Gift Planning where he works with faculty, administration, alumni, and friends of the Penn Museum of Archaeology and Anthropology, the Libraries, and the schools of Design, Education, Engineering, Social Policy & Practice, and Veterinary Medicine. His work involves trusts, wills, and other "planned gifts" funded with a wide variety of different assets. Robert also teaches from time to time in the Museum Studies program of the University of the Arts. Fordham's program in Medieval Studies sharpened the research and writing skills that he uses every day, and having a graduate degree in addition to his law degree helps him relate to the different constituencies that he serves. It is rewarding to be part of a university community where his work helps match donor passions with institutional priorities through philanthropy. He is still passionate about medieval history, and got to indulge that passion during a recent family trip to Portugal, including Tomar, Lisbon, and Sintra.
---
Thomas Lombardi
Thomas Lombardi (MA, MVST '97) attributes a large part of his personal and professional success to his focus on medieval studies at Fordham University. To this day, he has never received feedback on his work as thoughtful or thorough as that received from his Fordham professors. He still has Dr. Kowaleski's notes on his writing and reviews them periodically when he feels laziness overcoming him at the keyboard. The attention to detail, the demand for precision, and the faith in a student's ability to execute at an extremely high level prepared him for a wonderfully adventurous career and life. Moreover, completely unknown to him at the time, the exposure he received in data-driven techniques for historical research provided the foundation for a career in what is now called data science. He created his first database in Dr. Kowaleski's seminar to track apprentice records collected in fourteenth-century London. After earning the MA at Fordham in 1997, he went on to study computer science and eventually worked as a consultant and programmer for a data warehousing company specializing in educational data.
After completing his doctoral work in computing, he and his wife moved to eastern Bosnia to teach information systems at the American University in Bosnia and Herzegovina. During their time in the Balkans, they traveled to every ancient and medieval castle, church, temple, mosque and ruin they could find from Pecs in Hungary to Hieropolis in Turkey. They loved their time with the students and are grateful for the chance to explore this vibrant region of the world. In terms of his personal development, his time studying medieval culture prepared him to engage with and enjoy the complex mix of cultures at this period in his life.
In January 2011, he and his wife moved to western Pennsylvania where he taught computing and information studies at Washington & Jefferson College, a small liberal arts college. He believes that his medieval studies background contributed to his success in this position as well. As a member of an interdisciplinary computing department, he had the opportunity to teach and pursue research unencumbered for the first time. He taught a first year seminar on Dante. His first publication during this period analyzed the iconography of Saint Francis with the tools of network science. During a meeting to review one of his papers, Dr. Gyug talked about how the problems grad students find in grad school often follow them throughout their lives. At the time of that conversation, he did not have the perspective to appreciate the significance of the statement. Even 20 years after leaving the field, he still finds himself returning to the Middle Ages for data and inspiration.
Currently, he teaches information systems and technology in a school of business at the University of the Virgin Islands. While the content of his work is rather different from his previous research, the themes so familiar to the student of the Middle Ages occur almost daily in this new position. For example, the in-depth discussions of gender cultivated at Fordham have served him remarkably well given that he now prepares students for careers in an industry with a woeful record of gender imbalance at every level. When Dr. Kowaleski encouraged him to analyze gender in those apprenticeship records (and yes, there were female apprentices), he had no idea that he might need this knowledge to gain perspective on contemporary industrial practices and their failings. Having taught computing on two continents, he is struck by the consistently low enrollment of female students in his classes. His background in medieval studies supplied the arguments he now uses when discussing gender and technology in the present. Moreover, the community of scholars at Fordham helped to cultivate the values motivating him to push back against these discriminatory trends.
He is extremely grateful to the medieval studies community at Fordham University for the many opportunities it offered for personal and professional development during my time there. Such rich interaction will not surprise anyone familiar with Fordham University. What is surprising, however, is the degree to which this intellectual community still contributes to his personal and professional development 20 years later.
---
Allie McCormack
Allie McCormack (MA, MVST '14) started the Medieval Studies program with a love for the subject but a deep uncertainty about what she wanted to do after earning her Master's Degree. She went on to complete a library science degree and now works as a Rare Books Catalog Librarian at Baylor University. With the Latin paleography skills honed at Fordham, she was even able to date, localize, and provide better access to a small collection of medieval music manuscripts housed at Baylor. She recently helped Baylor classics professor, Dan Nodes, transcribe commentaries from a mid-16th century Roman comedy, and they are now working together on a critical edition of a manuscript collection of sermons. In addition, she and librarian colleague, Eileen Bentsen, are also collaborating on a digital humanities project related to Chaucer. She would encourage students not to worry that pursuing something other than a PhD will mean you have to give up on Medieval Studies. There are so many ways to be active in this community!
---
Peter Hatlie
Peter (MA, Medieval History '95, PhD, Byzantine and Medieval History '92) is a Professor of Classics and the Director, Dean, and VP of the University of Dallas Rome Program. A specialist in Byzantine History, he is the author of numerous publications, including The Monks and Monasteries of Constantinople, ca. 350-850 (Cambridge University Press, 2008). Among his forthcoming publications are two edited volumes: Bovillae: The History, Art, and Archaeology of A Lost City in the Roman Hinterland (University of Michigan Press) and People and Places of the European Past: An Educated Travellers' Guide (ARC Humanities Press). Peter lives just outside Rome (Italy) with his wife Barbara Roggema and two children Iola and Rosa. He remains grateful for the extraordinary training and wonderful support he received from his Fordham professors, notably John Meyendorff, Louis Pascoe, and above all Maryanne Kowaleski.
---
Louis Hamilton
Louis Hamilton (PhD, Medieval History '00) has been appointed Dean of the Albert Dorman Honors College at New Jersey Institute of Technology. He was previously the Director of the Baldwin Honors Program at Drew University. He has many fond memories of Fordham and feels it provided him with an excellent education.
---
Dan Bornstein
Dan Bornstein (MA, MVST '01) is currently the Head of Strategy, Development, and Sustainability for the Asset Management Division of Barrick Gold Corporation, where he is engaged in planning, financing and developing renewable energy facilities, industrial-scale agriculture and resort developments at several brownfield sites in North America. Since leaving Fordham University with an MA in Medieval Studies, Dan earned his law degree from the University of Toronto and practiced law at the firm of McCarthy Tétrault LLP in Toronto before joining Barrick.
---
Laura Gathagan
Laura (MA, MVST '94) has recently completed a piece entitled "'Mother of heroes, most beautiful of mothers': Mathilda of Flanders and royal motherhood in the eleventh century," for Motherhood, Authority, and Ambition: Defining and Redefining the Image of the 'Good' and 'Bad' Mother, edited by Ellie Woodacre and Carey Fleiner, coming out from Palgrave in 2016. She gave a talk entitled "Distaff Dynastic Lordship? Evidence from the Conquest Generation," at the Haskins Society Conference in November 2014, and chaired a session at Kalamazoo in 2014 entitled "Many Middle Ages: Rethinking Periods and Organizing Concepts for Medieval History." Laura chaired a session at Leeds in 2015 entitled "The Writers of Reform: Propagating Reform Agendas in Contemporary Histories."
---
Marjorie Harrington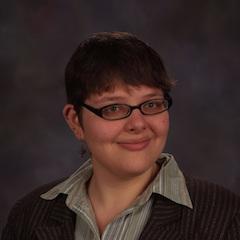 Marjorie Harrington is a Graduate Fellow and Visiting Lecturer at the University of Notre Dame's London Centre. In 2015, she attended the National Endowment for the Humanities Summer Seminar on "The Materiality of Medieval Manuscripts" and co-organized conferences on "Women Leaders and Intellectuals of the Medieval World" and "Medieval Women and Religious Writing." Marjorie has published on multilingual texts in their manuscript contexts in the Journal of the Early Book Society, Chaucer Review, and Florilegium. She is writing a dissertation on translation practices in pre-Chaucerian England, focusing on the translation of religious lyrics in four manuscripts owned by Franciscans (expected completion date: May 2017).
---
Kristen Mapes
Kristen Mapes (MA MVST, '14) is working as the Digital Humanities Coordinator in the College of Arts and Letters at Michigan State University. She also has a Library Science masters degree and works at the intersection of Digital Humanities, Libraries, and Medieval Studies. The experience she gained at Fordham through classes, work as the Administrative Assistant for the Center, and through other forms of support (such as funds to attend Rare Book School) prepared her to work in an academic environment, as a researcher and a teacher. She posts her work to kristenmapes.com and Humanities Commons (kmapes). Her current work examines medieval studies scholars and academics' use of social media to build online community. She is also working with the Roman de la Rose Digital Library to find new ways of learning about the text through the digitized material.
---
Scott Miller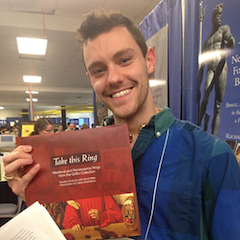 Since graduating Fordham University's program in Medieval Studies in 2012, Scott Miller has been pursuing a PhD in art history at Northwestern University. His research specializes in the courtly arts and culture of Valois France and Burgundy, particularly the architecture and landscapes of great royal houses. Over the past three years, he has presented on these topics in the June 2014
"Buildings and the Body"
conference in Southampton, England and at the
International Congress on Medieval Studies at Kalamazoo, Michigan
in May 2015. In spring 2015, Scott presented his first publication,
Take this Ring: Medieval and Renaissance Rings from the Griffin Collection.
Co-authored with Sandra Hindman, professor emerita in Art History at Northwestern University and owner of Les Enluminures, this book accompanies the exhibition
Treasures and Talismans: Rings from the Griffin Collection at the Cloisters Collection.
"In this volume," Scott states, "we chose not to cut close to the tradition catalog format. Rather, we treated the rings in this distinguished private collection thematically. Seeking to tell the story of the "life cycle" of the ring, we presented a history that followed them from the mines to the archaeological context, and through a human world in which they acted as symbols, talismans, and even social agents."
---
Rebecca Slitt
Rebecca Slitt (MA, MVST '00) works as a writer and editor for Choice of Games. In June 2014, she presented a paper entitled "Viking, Gunslinger, and Madam Midshipwoman: Gender and History in Interactive Fiction," at VUPop, the Villanova University Conference on Popular Culture. In December 2014, she released her first digital game, Psy High, a teen supernatural romance that she describes as a cross between 'Veronica Mars' and 'Buffy the Vampire Slayer.'
---
Bryan Stevenson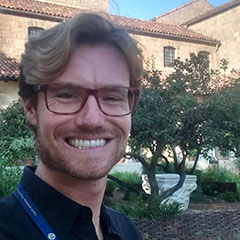 Since leaving Fordham University's Medieval Studies program in 2011, Bryan Stevenson has pursued opportunities in public history and the environment. He participated in
The Metropolitan Museum of Art's Graduate Internship program
during the summer of 2011, where he worked with the Horticulture Department at The Cloisters Museum and Gardens. Bryan tended the medieval gardens, wrote about
medieval beer brewing
for the museum's
Medieval Garden Enclosed
blog, and presented a public gallery talk,
Landscapes in Medieval Art
, in the Met's medieval galleries on 5
th
Avenue. After finishing his internship, he taught local history and ecology as an environmental educator with
YMCA Camp U-Nah-Li-Ya
in northeastern Wisconsin. As a Garden Assistant with the
Menominee Indian Tribe of Wisconsin's Food Distribution Program
, Bryan managed a vegetable production garden and provided community elders with assistance in constructing and managing their own garden plots. In 2012, he accepted a position as Head of Special Collections with the S. Verna Fowler Academic Library/Menominee Public Library, located on the
College of Menominee Nation
campus. He worked to increase community awareness and use of this incredible cultural resource through outreach and education efforts. Bryan returned to The Cloisters Museum and Gardens in early 2015 as Interim Assistant Horticulturist to continue his work in historic gardening and medieval horticulture and ethnobotany. He led talks on the history of medieval beer brewing and the use of garden plants in medieval beer recipes during The Cloisters' Garden Days event, but also developed interpretive signage for the gardens, contributed to the museum's new
In Season
blog, and helped manage the museum's three medieval gardens. Bryan returned home to southern California in late 2015 to be closer to his family. He is excited to continue his work in public education, history, and the environment in his home state.
---
For more updates on recent Medieval Studies alumni, visit our Placement page.