Medieval Studies MA Admission and Financial Aid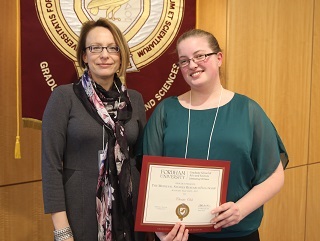 Dean Badowska (GSAS) and Christie Olek
(MA, Medieval Studies) celebrating Olek's
Medieval Studies Research Fellowship
Application Guidelines
Requirements for admission to the MA program are those of the Graduate School of Arts and Sciences: a bachelor's degree from an accredited American or foreign university; the Graduate Record Examination (General Aptitude Test); and, for foreign students, an English proficiency examination such as TOEFL. Instructions on the application process are on the Graduate School page.
Applicants to the MA program in Medieval Studies need to fill out an online application.
The application deadline for Fall 2020 admission with GSAS funding consideration is January 3, 2020.
Graduate Financial Aid
Graduate assistantships and fellowships are available to all applicants to graduate departments on a merit basis. Several of these graduate assistantships are specifically reserved for first year students in the Medieval Studies master's program. These graduate assistantships include the tuition for 30 credit hours of coursework, a stipend towards health insurance and a stipend for nine months (currently $25,164), in return for working for the Center for Medieval Studies or another academic unit for around 18 hours a week. University, Loyola and Bennet Fellowships, awarded on a merit basis to incoming students, include higher stipends. PhD students enrolled in the doctoral-level Advanced Certificate program are also eligible to apply for a Senior Teaching Fellowship, which provides an additional year of funding.
Graduate students in Medieval Studies are encouraged to apply for research and travel grants through GSAS. The Graduate Student Association also offers the Professional Development Grant each semester.
The GSAS also offers Summer Assistantships on a competitive basis.
---
See the Graduate School pages for information on tuition and fees.