Psychology Graduate Program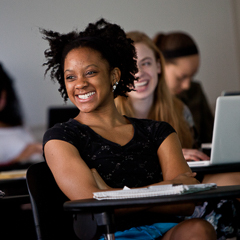 A highly selective, research-intensive program with three doctoral areas of specializations
Our graduate program offers an M.S. in applied psychological methods and clinical research methods and three doctoral areas of specialization: clinical, applied developmental, and psychometrics and quantitative psychology. Each of these programs is registered with the State of New York and is highly integrated, with our esteemed faculty serving in all programs.
Applying to a graduate program
We have a highly competitive and selective admissions process to all three programs. We highly value research experience, and we expect an undergraduate GPA of 3.5 (B+) or better, as well as upper-percentile GRE scores. In addition to research experience, most successful candidates also demonstrate some experience in the mental health/human services area(s), either on a paid or voluntary basis. The advanced subject test is NOT required but strongly recommended, particularly for students who do not have a B.A. in psychology for the clinical and applied developmental programs.
We solely admit full-time students working toward a Ph.D. degree. We award the M.A. degree as the first step in doctoral training in the three areas of specialization. Prospective students are expected to demonstrate substantial grounding in general psychology, as well as in their specialization.