Ph.D. in Psychometrics and Quantitative Psychology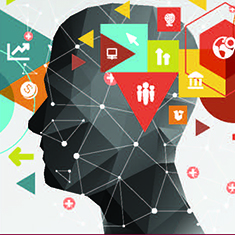 Fordham's doctoral program in psychometrics and quantitative psychology (PQP) offers the opportunity to acquire a variety of advanced and sophisticated measurement, evaluation, and statistical skills, preparing our graduates for careers in industry, research, or teaching.
With help and guidance from faculty mentors, our doctoral students perform research in one of the following areas:
Models of decision and choice
Bayesian statistics
Structural equation modeling
Item response theory
Hierarchical linear modeling
Longitudinal data analysis
Propensity score analysis
Missing data analysis
Categorical data analysis
Our program also provides a strong foundation in general psychology. Students regularly interact with faculty and students in other psychology doctoral programs. Consistent with Fordham's commitment to the dignity and uniqueness of each person, they develop a deep understanding of the ethical principles that guide modern research.
Program Basic Requirements
81 credits beyond a bachelor's degree (51 credits for students who hold an M.S. or M.A. degree in a relevant field)
Ph.D. Dissertation
Careers
Our alumni have gone on to jobs at established institutions in a variety of fields. Examples include:
Industry: ACT, ETS, College Board, Pearson, Law School Admission Council, AICPA, Kaplan Test Prep, Educational Development Center, NWEA, Council for Aid to Education, Data Square, QueBIT Consulting, Peter Flom Consulting, Gfk MRI, Bristol-Myers Squibb, Evidera, AllianceBernstein, IQVIA, RG+A, and Fidelity Investments
Universities: California State University, University of Texas, University of North Florida, Seton Hall University, Farleigh Dickinson University, University of Massachusetts, Amherst, and New York Institute of Technology, University of Pennsylvania, and John Hopkins University
Public School Systems: New York City Department of Education, New Haven Public Schools, and New Jersey Public Schools
Recent Achievements
Dr. Heining Cham has been elected to Fellow status in the APA American Psychological Association, effective January 1, 2023. Congratulations!
Congratulations to Mark Himmelstein for winning the 2021 De Finetti Prize of the European Association of Decision Making! This award is presented bi-annually for the best paper by a young investigator.
Dr. David Budescu was recently profiled in an article on APA.org
For potential applicants who are seeking a master's degree in psychometrics and quantitative psychology, please consider the Master of Science Program in Applied Psychological Methods (Test and Measures Track).