Ph.D. in Applied Developmental Psychology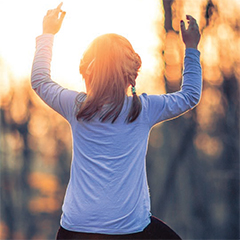 Nationally recognized for research excellence and pioneering contributions to the field, Fordham's Ph.D. program in applied developmental psychology focuses on human development across the life span with a strong commitment to social justice.
Fordham's psychology professor, Celia Fisher, helped establish applied developmental psychology as a field of study, which conducts rigorous research and advances policies and programs that improve lives. In our doctoral program, you'll gain hands-on experience and work closely with our renowned faculty, who have won prestigious awards and secured millions in grant funding.
Concentrations are offered in three areas:
Program Highlights
Strong foundation in developmental theories and research methods
Yearlong practicum in a community-based organization
Emphasis on ethical decision-making
Collaboration with Fordham's highly regarded psychometrics program on statistical analysis of data
Program Basics
Designed as a five-year program for full-time students
Mentored research apprenticeship in the first two years
Curriculum requires 66 credits
Students earn M.A. degree in the first two years
Dissertation required
Teaching and research fellowships available
Careers
Many graduates go on to work for nonprofit organizations including the Foundation for Child Development and The National Academies of Sciences, Engineering, and Medicine. Alumni have gone on to tenure-track and postdoctoral positions at colleges including the State University of New York, St. John's University, and Dickinson College as well as postdoctoral work at Yale University, Arizona State University, Mount Sinai Hospital, and the City University of New York.
Recent Highlights
Congratulations, Dr. Fisher!
Dr. Celia Fisher with APA Ethics Committee (Photo by Stephanie Gross)
Fordham University's Center for Ethics Education Director Dr. Celia Fisher is the 2017 recipient of the ninth annual American Psychological Association (APA) Ethics Committee Ethics Educator Award for her outstanding contributions to ethics education at the national level! Dr. Fisher was presented with the award earlier this month by APA Ethics Committee Chair Patricia L. Watson, Ph.D., at the 125th APA Annual Convention in Washington, D.C.