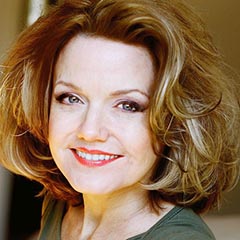 [email protected]
212-636-6303
Lowenstein 423
Classes Taught
Song as Scene
Ms. Fraser created the roles of Arsinoë in the world premiere of David Ives's The School for Lies directed by Walter Bobbie at Classic Stage Company and Sister Walburga in the world premiere of Charles Busch's Off Broadway hit The Divine Sister. She is a member of the company of Love, Loss and What I Wore. She is a two time Tony Award nominee for playing Martha in The Secret Garden and Josefine in Romance/Romance, and received the first ever Barrymore Award for her portrayal of The Blonde in The Wilma Theatre's production of Gunmetal Blues.
Other Broadway roles include, Dorine in Tartuffe; Born Again, Helena in The Mystery of Edwin Drood, and Tessie Tura in Arthur Laurents's Gypsy starring Patti Lupone. She co-starred with ShirleyKnight in the world premiere of Mr. Laurents's Come Back, Come Back, Wherever You Are at the George St. Playhouse, where she has also appeared in Lend Me A Tenor, Lips Together Teeth Apart, and Gunmetal Blues.
Off Broadway roles Alison has created include Jessie in Terrence McNally's Dedication, or the Stuff of Dreams, Trina in March of the Falsettos and In Trousers, Miss Drumgoole in Up Against It, Uta in The Green Heart, and Connie, Brenda, and Petula in Beehive.
Film and TV credits include Between the Lions, Law & Order: SVU, Third Watch, The Thing About My Folks opposite Peter Falk and Paul Reiser, In the Blood and the upcoming Commentary.