Law Strategic Plan: Bringing Fordham Law School to New Audiences
As legal and regulatory systems have become more complex and interconnected, the Law School must be prepared to offer high-quality degree and non-degree programs to a range of new professional audiences. Fordham Law School's LL.M. programs are already well established and have strong global reputations, and the School has recently launched two new Master of Studies in Law programs for non-lawyers. New programs like these, which allow professionals to gain legal knowledge in cost-efficient ways, are only some of the ways that Fordham Law School is bringing its expertise to new audiences.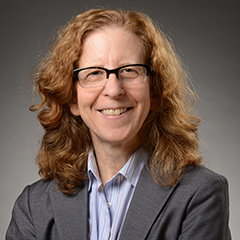 "A top priority is reaching a larger market for our newly created Master of Studies in Law programs. We also will explore online learning opportunities and degree programs in an online format. This is an important way to reach busy professionals looking for a quality educational experience that fits their schedules."
– Toni Jaeger-Fine
Assistant Dean, International and Non-J.D. Programs
To further expand our reach to new audiences, the Law School will pursue the following objectives:
Foster collaborative scholarship, classroom offerings, dual-degree programs, and participation in conferences and lectures with the Gabelli School of Business, the Graduate School of Social Service, the Faculty of Arts and Sciences, and the School of Education, among others.
Explore executive education offerings and certificate programs—both in-person and online—across areas of distinctive and emerging strength, including business and corporate law, compliance, national security, and cyberlaw, which allow us to reach new communities, both domestic and international.
Expand collaborations with domestic and international educational partners to develop customized programs for law students and graduates who seek specialized training in one or more areas of U.S. law.
Build new non-degree programs for international law school students and graduates to serve as a gateway to law study in the United States and for those wishing to pursue non-degree law studies in the United States.
"I chose Fordham for my LL.M. because of the ethos of the School and the pastoral element of student support. I knew I would stand out professionally, because this School was going to teach me things I had never learned before. Through hosting international events, Fordham offered a different perspective and put me in contact with people I would never have dreamed of being in contact with."
– Adelina Ferrara '97
Executive Director, J.P. Morgan