Law Strategic Plan: Fostering a Diverse and Inclusive Community
Today more than ever, our profession requires lawyers who can engage a multiplicity of viewpoints and perspectives. Diversity and inclusion are core to our educational model, not only to provide access to those historically underrepresented in the legal profession but also to train effective lawyers in an increasingly global age.
Our Law School must reflect the diversity of the great city in which we live—a place of learning for everyone, regardless of race and ethnicity, gender and sexual orientation, religious faith, and personal and political commitment. Fordham Law School is committed to creating a community that emphasizes inclusiveness, interconnectivity, and an openness to differing viewpoints.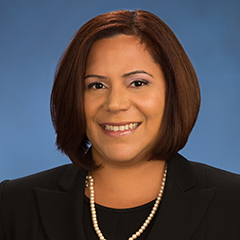 "I am proud that my alma mater is at the forefront of efforts to create a more diverse legal industry by highlighting the importance of diversity."
– Anilu Vazquez-Ubarri '02
Managing Director, Chief Diversity Officer, Global Head of Talent, Goldman Sachs
Diversity
From our origin as a gateway school for newly arrived immigrants to our role as a leader in modern legal education, Fordham Law School has always produced outstanding lawyers who meet the needs of a diverse array of clients locally, nationally, and globally. In that spirit, we share the University's mission to "be attentive to authentic, pluralistic dialogue and engagement" and "affirm that difference is a gift."
Toward that end, the Law School will develop and implement a Diversity Plan that will address the following objectives:
Continue to develop admissions and financial aid processes that are holistic in their evaluation of applicants and geared to ensure a broadly diverse student body that reflects the diversity of New York City, the nation, and beyond.
Offer more generous financial aid packages, expand pipeline programs that help to identify and attract motivated and talented students from a range of socioeconomic, ethnic, and racial backgrounds, and emphasize recruiting student talent from historically underrepresented communities.
Recruit, retain, and engage more faculty and staff from groups historically underrepresented in the legal profession within all of the School's departments, programs, and offices.
Ensure that alumni from historically underrepresented communities continue to be actively engaged with the Law School after graduation and that Law School alumni and mentorship activities reflect diverse perspectives and experiences.
Community and Inclusion
Fordham's size and breadth offer great educational opportunities, but they also present challenges to community building and care for each individual. Our commitment to inclusion spans all of our educational programs, including serving the needs of those seeking a part-time legal education and international students who make up an increasing portion of our global student body.
To realize our commitment to community and inclusion, Fordham Law School will pursue the following objectives:
Build more intimate communities within the institution to ensure that all of our students feel a sense of belonging, that all have mentors and ample guidance as they develop their professional identity and prepare to begin careers as lawyers, and that all are engaged with their colleagues and professors and reap the benefits of intensive collaboration during their time at Fordham Law School.
Move toward a "house" system in which every student has a lifelong community of peers, supported by career counseling and faculty and alumni mentorships that begin the first day of classes and last throughout a career. Through the house system, every entering student would take part in a small community within Fordham Law School, with enhanced faculty and alumni mentorship and stronger connections to career planning, student services, and the work of our centers and institutes.
Ensure that our part-time J.D. program, which continues to be a source of great pride to Fordham Law School, meet the needs of working students in a broad range of industries.
Promote an environment that fully incorporates our LL.M., M.S.L., and S.J.D. students into the Fordham Law School community and meets the needs of international students in these programs.
Provide even greater opportunities for alumni to engage with the School and for students to work with, and learn from, our vast alumni networks—including expanding alumni mentoring to enhance career development for students and alumni.