Lincoln Center Orientation Guide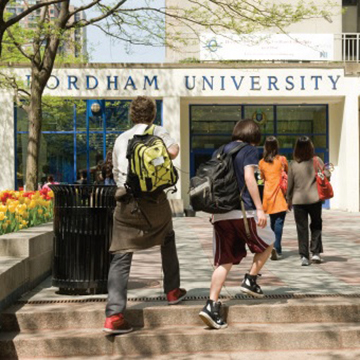 Dear New Student,
On behalf of the New Student Orientation Team and the Office for Student Involvement, we welcome you to the Fordham Ramily! We are incredibly excited for you to begin your journey here at Fordham College Lincoln Center or Gabelli School of Business at Lincoln Center.
There is nothing better than attending college in the heart of Manhattan, so we encourage you to step outside, explore, and take advantage of this amazing opportunity. Walk a few blocks downtown to catch a Broadway show, or stay on campus and see Fordham students perform in our very own Pope Auditorium. Get to know a world-class faculty member, or listen to a visiting expert speak on current events and affairs. Cheer for the Knicks at Madison Square Garden, the Yankees at Yankee Stadium, or the Rams at the Rose Hill Gymnasium. Watch Alvin Ailey American Dance Theater perform at City Center, or watch Fordham's BFA dance students perform only a few blocks away. Head to any of the illustrious music venues to see your favorite band, or check out Fordham LC's numerous student musicians during open-mic nights. There is something to see for everyone—both in Manhattan and on campus.
The mandatory Fall Orientation Program for incoming transfer and freshmen students for the Fall semester will be held Sunday August 28 through Tuesday August 30. This program will cover a broad range of topics to ensure your Fordham career is off to a great start. You will have the opportunity to learn about academics, how to get involved on campus, the Jesuit tradition, and more!
The New Student Orientation Team is your primary source for answers to your orientation questions. Please feel free to contact us any time at 212-636-6260, or orientlc@fordham.edu. We look forward to meeting you soon! Get ready because you're in for the time of your life!
Emily Ellis, FCLC '23
Emma Regovich, FCLC '24
Melanie Sztulman, GSB '23
Evelyn Sims, FCLC '23
New Student Orientation Coordinators
Daniel Patterson
Associate Director for First Year Experience
Dorothy A. Wenzel, PhD
Senior Director for Student Involvement
Sunday, August 28 | Opening Day at Fordham

This day is move-in for residents and check-in for commuter students. Move-in will take place starting in the morning and ending early afternoon. Specific move-in times will be distributed through the Office of Residential Life and will be based off your fall housing assignment. The second half of the day will have various welcomes for families from the President-Elect of Fordham University, Tania Tetlow, J.D.; Dean of Fordham College at Lincoln Center Laura Auricchio, Ph.D; Dean of Gabelli School of Business Donna Rapaccioli, PhD.

Monday, August 29 | Student Life Orientation

Monday is a full day consisting of programming and group activities to help you adjust to both starting college and living in New York City. Students will spend time in presentations and in small groups lead by Orientation Leaders (OLs) in order to start connecting with their peers. After the scheduled programming on Monday, the night ends with various optional excursions throughout New York City and the Rose Hill campus.

Tuesday, August 30 | Academic Convocation for Fordham College at Lincoln Center and Gabelli School of Business

The last day of Orientation will focus on academic information and advising so that you are all set for your first day of classes. You will learn a bit more about Fordham's history, our core curriculum, and the resources available to help you succeed. Academic advisors will be on hand to go through your schedule with you and to answer any questions you might have.

This three-day orientation program is mandatory for all new students. Families are invited to campus on Sunday and are respectfully asked to depart in the late afternoon. Student Life Day, the Academic Convocation, and Student Life Orientation will introduce new students to different aspects of the academic and extracurricular activities offered at Fordham to enhance their college experience.

January
The one-day orientation program on Friday, January 13 is mandatory for all incoming January 2023 new students. Please visit our January Orientation page for more information.

This year, our Summer Orientation Programs (SOPs) will be offered in-person on June 13 and July 11. Incoming students who wish to attend one of these sessions will be able to regsiter beginning in May.

SOP Features

Summer Orientation Programs are helpful in assisting new students and families with the adjustment to college.
Sessions are optional, and we plan to offer multiple sessions with the same programming.
Sessions will feature academic overview presentations for Fordham College at Lincoln Center and Gabelli School of Business at Lincoln Center students, breakout sessions for new students and parents, and Q&A sessions with current students and administrators.

If you have any questions, please contact New Student Orientation at 212-636-6260 or email orientlc@fordham.edu.
Lowenstein Center Outdoor Plaza
This fun-filled event allows new FCLC and the Gabelli School of Business students, in addition to transfer residents and commuters, to enjoy good food in good company while meeting classmates who also call the New York metropolitan area home. The Commuter and Transfer Student Barbecue is sponsored by New Student Orientation and Commuter Student Services.

The 2022 Barbecue will take place on Monday, August 8 at Fordham Lincoln Center's Outdoor Plaza. Registration will available this summer.

Wednesday, August 24-Saturday, August 27
Global Transition is a mandatory program for all international students.

Urban Plunge is a pre-orientation program run by the Center for Community Engaged Learning. More information about the application process will be emailed over the summer.