Wellness Resources for Students
We offer a host of on-campus, off-campus, and online resources and assessment tools for students.
Additionally, students can find a provider in the community with The Shrink Space. Visit this website to search for providers who meet your particular needs: https://theshrinkspace.com. Select "Student" and create an account using your Fordham email address.
Explore all resources available or feel free to contact us with any questions at 718-817-3725 (RH) or 212-636-6225 (LC).
---
Coping and Managing Pandemic Related Distress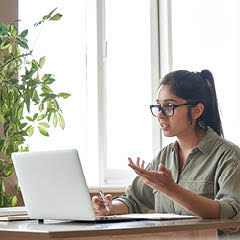 For more information and guidance on recognizing and managing emotional or mental health distress related to COVID-19, please go to one of the following links:
Fordham University is committed to the holistic health and well-being of our students and community. In response to the increasing demand for and utilization of mental health services, Counseling and Psychological Services (CPS) has partnered with Care Solace, a care coordination and referral service, to complement its existing support to students.

The mission of Care Solace is to "calm the chaos of mental health care by ensuring that every student with mental health or substance use challenges quickly connects to quality care matched to their unique needs, regardless of circumstances."

At no cost to you as a Fordham student, Care Solace's dedicated "Care Companions" can support you every step of the way by

Identifying and contacting licensed counselors, therapists and psychiatrists.
Securing appointments.
Following up to ensure a good fit with the provider.
Connecting you to providers who accept all insurances, including Medicaid and Medicare, and who offer reduced fees.
Providing care coordination and referral support 24/7/365 and in over 200 languages.

To learn more about Care Solace or to connect confidentially with a Care Companion right now, please

You can also use Care Solace to anonymously search for a provider on your own. To do so, please click here.

If you have any questions about Care Solace, please contact Dr. Jeffrey Ng at jeng@fordham.edu.

Care Solace is not an emergency mental health service or provider. If you are experiencing a mental health emergency, please contact the following resources:

CPS (During Business Hours) 718-817-3725 (RH) or 212-636-6255 (LC)

Public Safety (24/7) - 718-817-2222 (RH) or 212-636-6076(LC)

Suicide & Crisis Lifeline at 988

Low Fee Clinics

Individual therapy helping you to accomplish your individual goals through self-understanding/awareness.

The Blanton-Peale Counseling Center
7 West 30th Street
New York, NY 10001
212-725-7850
https://www.blantonpeale.org
To make an appointment contact the Client Coordinator at 212-725-7850 ext. 119 or email intake@blantonpeale.org


Center for Modern Psychoanalytic Studies
16 West 10th Street
212-228-6036
https://www.cmps.edu/


Psychoanalytic Psychotherapy Study Center
http://www.ppsc.org/
Contact: Joan O'Donnell, Ph.D.
212-560-2208


Institute for Contemporary Psychotherapy (ICP)
1841 Broadway (60th Street)
212-333-3444
http://icpnyc.org/


Metropolitan Center for Mental Health
160 West 86th Street NY, NY 10024
212-362-8755
https://www.metropolitancenter.com/


Parnes Clinic (The Max and Celia Parnes Family Psychological and Psychoeducational Services Clinic)
1165 Morris Park Avenue, Russo Building-Room C14,
Bronx, NY 10461
718-430-3852
http://yu.edu/ferkauf/parnes-clinic/schedule-appointment/


National Institute for Psychotherapies (NIP)
71 West 23rd Street
Phone: 212-582-1566; Fax: 212-586-1272
https://niptherapy.org/
The Treatment Center of NIP is the clinical training component for candidates enrolled in our various training programs. All clinicians are graduate or postgraduate students working under the supervision of experienced licensed psychotherapists.
NIP's Treatment Center offers individual psychotherapy, psychoanalysis, and EMDR services at a reduced fee based on income.

Mental Health Screen: A quick and simple way to take an anonymous mental health screening.

e-CHUG (electronic Check-Up to Go): A alcohol-specific brief assessment and feedback tool.

e-TOKE (electronic Online Experience): A marijuana-specific brief assessment and feedback tool.

Mental Health Websites for College Students

Jed Foundation
Half of Us: Celebrities and students on mental health concerns.
Reach out: Student blogs and stories.
Strength of Us
Well-being in Higher Education
Active Minds
National Alliance on Mental Illness Student Resources
Campus Health and Safety

Adjustment and Homesickness

Alcohol and Other Drugs

Alcoholics Anonymous
Young People in Alcoholics Anonymous
Alanon
Addiction Resource Guide
Addiction blog
FAQs on Alcohol Abuse and Alcoholism
How to Drink and Stay Safe
Alcohol and Drug Hotline 1-800-662-HELP (1-800-662-4357)

Anxiety Disorders Association of America
Types of Anxiety Disorders
Why do We Get Stressed?
What are Panic Attacks?
Barriers and Solutions to Time Management
Stress Management Strategies
Coping with Economic Stress
Relaxation Breathing
Progressive Muscle Relaxation
Visualization

Autism Spectrum and Neurodiversity

Neurodiversity
Autism Society
Information on Autism Spectrum Disorders

Attention Deficit and Hyperactivity Disorder

Children & Adults with ADD
NIMH pamphlet for ADHD
Coping with ADHD Strategies

Depression

iFred Anxiety and Depression Support Community
Depression Facts
Coping with Depression
Dealing with a Depressed Friend
Self Injury hotline: 1-800-DON'T-CUT (366-8288) OR 1-800-273-TALK (8255)

Eating Disorders

Body Positive
Overeaters Anonymous
National Eating Disorders Association
Common Signs and Symptoms of ED
Tips for Healthy Eating
Building a Better Body Image
Eating Disorder Helpline: 1-800-931-2237

Grief and Loss

Local grief recovery support groups
Coping with Loss
The Grieving Process

Sexual Assault

Sexual Assault Resource Agency
Love is Respect
Sexual Violence Fact Sheet
Help for a Friend who is a Survivor of Sexual Assault
Rape Crisis/Sexual Assault Hotline 1-800-656-HOPE (4673)
Domestic Violence Hotline: 1-800-799-SAFE (7233)

Sleep Concerns

National Sleep Foundation
Sleep Hygiene Tips

Suicide

Suicide Awareness Voices of Education
Suicide Hotlines
About Suicide
Suicide Warning Signs and How to Help
Suicide hotline: 1-800-SUICIDE (784-2433)

Introduction to Mindfulness Practice

Relaxation and Calming Breathing

Progressive Muscle Relaxation Exercise

Loving-Kindness Meditation Practice

Guided Visualization

Recommended Readings for Stress Reduction and Relaxation

Recommended Apps and Guided Meditations

Smiling Mind- Modern Meditation for Young People