Office of Information Technology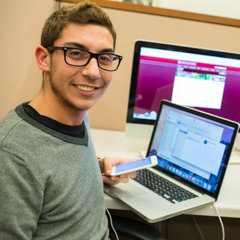 Student Technology Services welcomes you to Fordham University. Technology enriches all stages of a student's academic life and is an essential ingredient of academic excellence at Fordham University. Be sure to look out for a welcome email from us, detailing all the resources our IT department provides you as a Fordham student.
We offer an extensive array of technologies and support services, including access to the Fordham portal, smart classroom facilities, computer labs, and IT support services. We encourage you to use these resources to maximize your personal and academic development during your time at the University. We hope you will take the time to explore what is offered and let us know if there are areas where we can be of greater service to our students.
In order to expedite getting your computer connected to the Fordham Network on Opening Day, we ask that you familiarize yourself with IT Services.
Working behind the scenes at the Office of Information Technology is a great team of dedicated professionals committed to supporting you with your computing and technology needs as you pursue your academic goals. To reach our support service staff, please call the IT Service Desk at 718-817-3999.
We look forward to seeing you at Fordham University.