Make Art in the Creative Capital of the World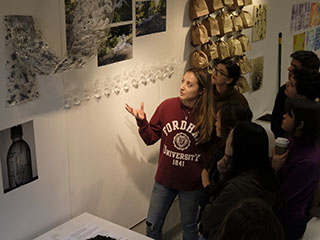 In small classes taught by dedicated, award-winning professionals, you will develop your creativity and navigate today's visually-oriented world and job markets. Thinking about a career in the arts? The Visual Arts program will provide you with the technical skills and critical and historical understanding you'll need to enter the field. We offer courses in six areas of study—painting and drawing, graphic design, film and video, photography, art and engagement and architecture.
You will master your chosen discipline through practice as well as by studying its social, historical, and ethical contexts. Through a combination of a studio and visual arts curriculum, our students are prepared to take their places as productive and engaged citizens. When you graduate, you will be equipped with enhanced creativity, marketable skills, and an expanded vision of art's scope and potential in the world.
---
Both social and cultural engagement and professional exposure are integral parts of our department's curriculum. In addition to museum and gallery tours, guest artist lectures, film screenings, and visits to artists' studios, visual arts students have opportunities in the following program highlights:
You may study in professional studios in Lincoln Center's Visual Arts Complex or on the Rose Hill campus in a beautiful sky-lit studio space with terrazzo floors. Both locations are equipped with state-of-the-art computer labs; these facilities are accessible for your use when classes are not in session.
Master traditional and modern technical skills, art theory, and creative expression.
Study the principles of design and typography from critical, social, historical, and theoretical perspectives.
Discover film history and create your own experimental, narrative, or documentary films. Note that Film and Video courses are not offered at the Rose Hill campus.
Study elements of the built environment, pursuing your interests in architecture, urban planning, or environmental design.
Develop your darkroom and digital skills and learn the historical and critical contexts of the medium.
Explore the relationships and contexts of artmaking and viewing to creatively address the pressing social issues of our day.
---
Educating the Whole Person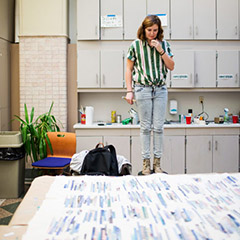 Fordham's Visual Arts Program fosters the development of rigorously intellectual, creative, and socially engaged artists. With a foundation in Fordham's liberal-arts curriculum, you'll learn to think critically, value creativity, and build technical skills to plumb the range of art's expressive and aesthetic potential—all in the service of artistic excellence.
Visit the Visual Arts Blog and Galleries Website to see our current activities.