Joseph H. Moglia, FCRH '71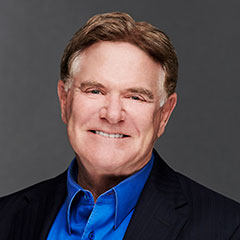 Joe Moglia is chairman of TD Ameritrade, Fundamental Global Investors, and Capital Wealth Advisors, and chair of athletics at Coastal Carolina University.
Moglia worked at Merrill Lynch for 17 years, where he was on the executive committees for both the Institutional and Retail businesses. Since 2001, he has been either CEO or chairman of TD Ameritrade. In 2020, the firm will close its deal with Charles Schwab and have a market capitalization of $100 billion and assets of $5 trillion. Those numbers were $700 million and $24 billion when he arrived.
Moglia coached football for 16 years, had a business career of 24, and then went back to football for another nine years. In the last 11 years, he has been a part of eight championship teams, and as a head coach has a winning percentage of .718.
His many honors include the Eddie Robinson National Coach of the Year Award, the Vince Lombardi Award, induction into seven Halls of Fame, and three honorary doctorates, including one from Fordham.
Joseph H. Moglia, FCRH '71
Joseph H. Moglia's Fordham Speech at Founder's 2021