Office of Sponsored Programs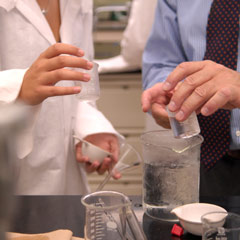 Relationship to the Office of Sponsored Programs
The Office of Corporate and Foundation Relations (CFR) is Fordham's point of contact for corporations and foundations and manages institutional relationships. CFR collaborates with the Office of Sponsored Programs (OSP) in the submission of grant proposals to corporations and foundations. Unlike philanthropic gifts, grants from foundations and corporations have reporting requirements and Fordham's Finance Office administers them in compliance with federal audit regulations.
CFR and OSP serve as resources for faculty and work to raise Fordham's profile in order to obtain research and project funding. CFR provides corporate and foundation prospect research, advises on proposal submission, and oversees communication with program staff. OSP reviews narratives and budgets and advises on compliance matters. OSP also coordinates the internal processes for limited submission competitions and nominations. OSP oversees post-award grant management along with the Grants Accounting Office. CFR records and tracks all activity with corporations and foundations within the University's system of record, CRM Advance. The Office of Sponsored Programs's website provides links to research funding databases and resources under How to Find Funding.
CFR and OSP require faculty to complete the Notice of Intent to Submit (NITS) with a project abstract and draft budget and to circulate it for approval in advance of preparing a proposal for submission.
Working with the Office of Corporate and Foundation Relations and the Office of Sponsored Programs
Faculty can reach out to either CFR or OSP and will be provided with or directed to the appropriate resources and services. Foundations and corporations are seeking research partners and CFR's role, in addition to connecting leadership with corporations and foundations, is to identify projects that would be of interest to corporations and foundations.
CFR provides a range of services including research, relationship development, assistance with submissions, and grant reporting, which are described in more detail under Services.