Living on Campus at Lincoln Center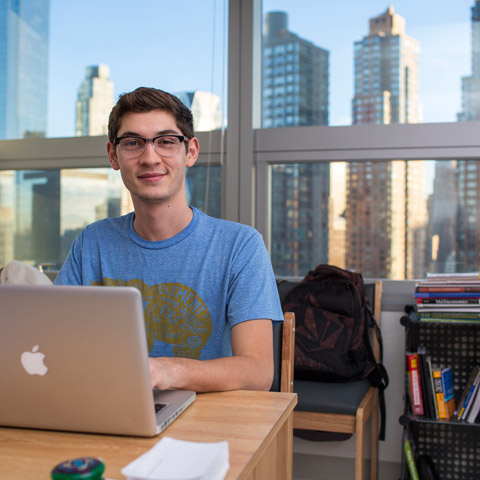 The most recent addition to the Lincoln Center community houses approximately 425 first- year students in double and triple bedrooms on 12 floors. The building includes free laundry, two study lounges, one movie lounge, one game lounge, one dance lounge, six "living room" lounges, and a large kitchen and multi-purpose seminar room on the top floor. Hard-wired Internet access and cable television are available for each student in their bedroom, in addition to wireless connectivity throughout the hall. The building has a comprehensive fire-safety system, including sprinklers and control panel with a public address system.
At the Lincoln Center campus, some first-year students, along with all sophomore, junior, senior, and some law, and graduate resident students live in the 20-story residence building, McMahon Hall. Amenities of McMahon Hall include 24-hour security, study lounges, social lounges, three laundry rooms, and a fitness center (which is open to the whole university community). Undergraduate students live in single or double bedrooms in either two-bedroom or three-bedroom apartments. Each apartment is fully furnished, air-conditioned and includes one or two bathrooms, a living/dining room area, and a kitchen. Housing rates vary based upon single or double bedroom occupancy. Law students live in single rooms in three or four bedroom apartments. Graduate students live in double rooms in two or three bedroom apartments.
Community Living
Living in McKeon Hall or McMahon Hall requires a balance between independent and shared living. Compromise, tolerance, and responsibility are essential to maintaining this balance. The residential life community is one in which independence is celebrated and participation in the residential, University, and New York City communities is encouraged.