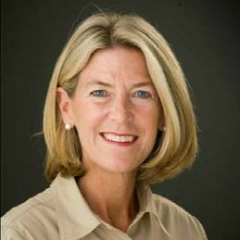 Susan Stone, PAR
Susan Stone grew up on Long Island and in New York City. She attended Clark University in Worcester, Massachusetts, and graduated cum laude with a B.A. in international relations.
Sue worked for the United Nations Environment Program and was then recruited to work for IBM in New York City. She worked for IBM from 1977 to 1993. Early on, she held various sales and management positions. In 1988, she became the senior sales executive for Long Island, responsible for sales and services revenue growth. In 1990, she took the position of director of marketing and sales and chief operating officer for the IBM North Eastern region located in New York City. In April of 1993, after having her second son, she decided to leave IBM to stay home with her family.
In 1994, Sue began her involvement at Greenwich Catholic School in Greenwich, Connecticut, where her children attended grammar school. She became the chair of the Development Committee and then a member of the school's board of education. Sue became chair of the school's board in 1999, serving three consecutive terms and retiring from that position in 2007. During her time at Greenwich Catholic School, she worked closely with the administration, teachers, and clergy on budgets, financial and fundraising strategies, operations and facilities, as well as strategic planning and the accreditation process.
From 2009 to 2013, Sue was the business manager for Indian Harbor LLC, a private placement firm focused on the hedge fund and private equity industry.
Sue served on the board of governors of Fairfield College Preparatory School and is a former member and chair of the Parents' Leadership Council at Fordham University. More recently, she was a member of the Strategic Planning Commission for the Diocese of Bridgeport as well as of the board of Foundations in Faith. She is also currently enrolled in the Spiritual Direction Formation program at the Murphy Center for Ignatian Spirituality at Fairfield University.
Sue lives in New Canaan with her husband, Bob. She is a member of St. Michael Parish in Greenwich, where she is involved in various ministries.