Fordham Women's Summit: Philanthropy | Empowerment | Change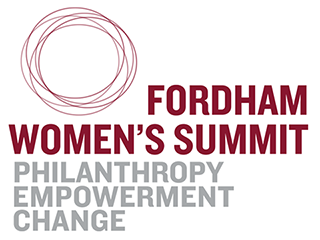 Wednesday, October 19, 2022
The Fordham Women's Summit is a unique opportunity for Fordham alumnae, faculty, and friends to discuss and celebrate their achievements as leaders, activists, and philanthropists, as well as attend professional and personal development sessions.
We are excited to announce that for the first time since 2019, we are hosting the Summit in person at Fordham University School of Law.
This year's theme,
Catalysts For Change: Women Innovators
, centers around how Fordham women, across a variety of industries, are leveraging their unique brand of leadership to make a mark on and transform their fields for the betterment of their colleagues and the world around us. The Summit's dynamic sessions will examine and discuss how women can pave their own path and learn important innovative skills they can put into practice in the places of work.

2022 Keynote Sessions
Closing Keynote Panel Discussion | A Spotlight on Corporate Social Responsibility
As consumers demand increased accountability and transparency from institutions, businesses find themselves faced with a new benchmark for success and profitability pertaining to social responsibility. Panelists will discuss the impact of ethical business practices in their respective industries.
2022 Sessions
A View From the Top: Entrepreneurship, Innovation, and Transformation
Emotional Intelligence and Leadership Workshop
A View From the Top: Retention and Recruitment in the Great Reshuffle
View 2021 Summit News Coverage Watch the 2021 Summit
Thank you to our 2022 Sponsors