Fordham Women's Summit: Philanthropy | Empowerment | Change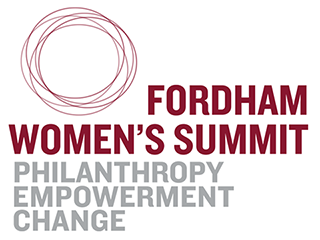 The Fordham Women's Summit is a unique opportunity for Fordham alumnae, faculty, and friends to discuss and celebrate their achievements as leaders, activists, and philanthropists, as well as attend professional and personal development sessions.
This year's Summit centers around the importance of compassionate and collaborative leadership. The panel discussions will examine how women can cultivate these skills to thrive in a transformed world and help their workplaces, families, and communities rebuild and renew through philanthropic endeavors and beyond.
A Virtual Experience
Given the ongoing effects of COVID-19, we are hosting the Summit in a virtual setting for another year. We are excited for the opportunity to once again engage hundreds of members of the Fordham community from all over the world.
Join us on Wednesday, October 20, 2021, for the Fifth Annual Fordham Women's Summit: Philanthropy | Empowerment | Change.

Save the date for the sixth annual Fordham Women's Summit: Wednesday, October 19, 2022!
Stacey Tisdale, MC '88: Change Your Mind. Change Your Money. Change The World.
Award-winning financial journalist and author, Stacey Tisdale shows us how to strip away the mental and emotional barriers that prevent us from using our wealth to make the greatest statement of who we are and what we value.
Award-winning on-air financial journalist and author, Stacey Tisdale, MC '88, was the first woman and first African American to report from the New York Stock Exchange in her role as a reporter/anchor for Emmy award-winning Wall Street Journal Television. Stacey authored the critically-acclaimed book, The True Cost of Happiness: The Real Story Behind Managing Your Money (John Wiley & Sons), and became a pioneering journalist in behavioral finance and financial psychology. As founder and CEO of multimedia content provider, Mind Money Media Inc., Stacey uses her personal finance and media platforms to educate her audiences about all aspects of our complex relationship with money.
Joan Garry, FCRH '79: Leaving Your Mark
As a champion for the nonprofit sector, Joan Garry will share her insights about how helping others enriches those who serve. Many of us see the world differently post-pandemic and feel called to make meaningful contributions. It is in working together to repair the world that we will find ourselves living lives of true purpose.
Joan Garry, FCRH '79, is a highly sought-after executive coach for CEOs at some of the nation's largest organizations. She is called upon by these companies to tackle substantial change management, crisis management, and leadership transitions that require a hands-on strategist, a messaging expert, and a compassionate truth-teller. Through her blog, podcast, and book, Joan Garry's Guide to Nonprofit Leadership, she has become the "Dear Abby" of the nonprofit sector, advocating for the success of nonprofits, large and small.
Compassionate and Collaborative Leadership in our Communities
Compassionate and Collaborative Leadership in the Workplace
View 2020 Summit News Coverage Watch the 2020 Summit
Thank you to our 2021 Sponsors