Office Information
Rose Hill
McGinley Center 102
441 E. Fordham Rd.
Bronx, NY 10458
Phone: 718-817-4500
Fax: 718-817-4505
cm@fordham.edu
Lincoln Center
Lowenstein 217
New York, NY 10023
Phone: 212-636-6267
Fax: 212-636-7212
campusminlc@fordham.edu
Westchester
Room 133
400 Westchester Ave.
West Harrison, NY 10604
Phone: 914-367-3420
Fax: 914-367-3421
jcavanagh@fordham.edu
Campus Ministry Staff
Executive and Rose Hill Staff
Rev. Jose Luis Salazar, SJ is in his sixth year as an
is in his sixth year as Executive Director of Campus Ministry. Residing with 120 First Year students in Loyola Hall has been a vital and enriching part of his priestly ministry. Lito wasn't always a Jesuit. He worked for a decade as a chemical engineer for Royal Dutch Shell in Manila and in The Hague before entering religious life in London. He taught Theology at Xavier in Manhattan, at St. Peter's Prep, and at St. Peter's University in Jersey City. Lito completed his doctoral studies on Bernard Lonergan SJ in Nijmegen University in The Netherlands. When he gets away from campus, he visits family in NJ. (Warning: no jokes about which parkway exit!) Lito loves spending time with his dogs Luna and Moose.
Executive Director of Campus Ministry
Email: jsalazar8@fordham.edu
Phone: 718-817-4503
McGinley Center 104
Available for: General Campus Ministry, Spiritual Direction, Post Graduate Volunteer Discernment, Sacramental Ministry (Reconciliation), Pastoral Counseling, Drop-In Ministry, Social Justice Advocacy, Priesthood Discernment.
---
Gil Severiano is often found in the Campus Ministry office
at McGinley Center with her amazing team of student interns. Together they help to bring forth Campus Ministry events, programs and ministries. Gil is passionate about advising the Pedro Arrupe Volunteers alongside Carol Gibney and provide opportunities for students to engage with the New York City community and have meaningful conversations about issues of our times. One of her favorite projects is the annual Day of Service at the Bronx is Blooming because no one loves to shovel "mulch" with 80 students more than her! Married to her high school sweetie, Jorge, she is a proud mother of three humans (Lauren, Gabi GSB MS 21' and Alex FCRH 14') and one furry son Bailey. She loves traveling (especially Portugal and Italy), gardening, cooking and entertaining, and her favorite event in CM is the annual Mardi Gras party! If you are at McGinley, come on down and say hi!
Administrator of Campus Ministry Operations
Email:severiano@fordham.edu
Phone: 718-817-4501
McGinley Center 102
Available for: General Campus Ministry, Social Justice Advocacy
---
Katie Anderson Kuo, as the Campus Minister for Liturgy, is a big fan of incense,
hymns, and stained glass, but just as big a fan of finding God in unexpected places, whether it's a quiet corner of the Botanical Gardens or the busy hum of Fordham Road. Katie has worked in ministry in a variety of settings: community organizing, accompanying and advocating for immigrants, coordinating disaster response teams, and, here at Fordham, working with student volunteers and leaders to coordinate prayerful, peaceful, and joyful Masses in our Church and chapels. She is also a resident minister for Martyrs' Court Jogues, home of the Science Integrated Learning Community. She is most passionate about empowering students to discover their own spirituality, creativity, and wisdom. You can often find Katie in her Church basement lair —erm, office— but when she's not there, she's either creating a work of art, taking a walk with her family, or on a gustatory tour of the world. Katie grew up in "Small Wonder," Delaware, home of farmstand peaches, winding hiking trails, and gorgeous beaches, and has trouble believing that she's now been a New Yorker for ten years. She lives in the Bronx with her husband and their two tiny humans.
Assistant Director of Campus Ministry for Liturgical Ministry
Email:kanderson26@fordham.edu
Phone: 718-817-0588
University Church 01
Available for: General Campus Ministry, Post Graduate Volunteer Discernment, Drop-In Ministry, Social Justice Advocacy
---
Carol Gibney is a Campus Minister at Fordham University for her
19th academic year this September. She is a native New Yorker who grew up in the Bronx. This summer, she sheltered in place in a cabin in the Pocono Mountains in Pennsylvania with her beloved husband and 15 year old Jack Russel dog, Gracie. In addition to directing retreats, offering pastoral ministry and various programs, she co-manages a community engagement/service program called the Pedro Arrupe Volunteers where she works with a student council to set up service opportunities and organize conversations and dialogues around issues of justice through the lens of faith. Carol also offers weekly Centering Prayer and Ignatian Yoga sessions, as she is a certified yoga teacher and connects spirituality with the practice of yoga. Carol has started to meet with faculty, students, and staff at Fordham to dialogue about race, privilege, and white supremacy with listening circles and looking at how to respond as a community. She looks forward to meeting new students sometime soon!.
Associate Director of Campus Ministry for Spiritual & Pastoral Ministries, Rose Hill Director of Spiritual Life & Leadership
Email:cgibney@fordham.edu
Phone: 718-817-4518
University Church 0
Available for: General Campus Ministry, Spiritual Direction, Post Graduate Volunteer Discernment, Pastoral Counseling, Drop-In Ministry, Social Justice Advocacy
---
John Gownley's main role is the care of Fordham University Church.
He works with campus custodians, carpenters, facilities team and ground crew to keep the city landmark and the seat of our Catholic roots a beautiful and prayerful environment for all. In addition to supporting all Catholic masses on campus, John assists with any and all special events that may occur in the University Church. He works with the liturgy staff to train a team of students sacristans who are entrusted with preparing the altar for mass in our Church, residence halls and daily chapels. Over the years John has provided his guidance and passion towards social justice by chaperoning World Youth Day/MAGIS in Brazil (2013) and Poland (2016) as well as a chaperone for the Ignatian Family Teach-in and GO! Projects here in New York City and Nicaragua. You will find John on campus all hours of the day, as he serves as a resident minister for first year students in Queen's Court. It is through his own faith journey and studies that he feels called to provide a prayerful environment for all our students.
Assistant Director of Campus Ministry for Church Operations and Special Events
Email:jgownley@fordham.edu
Phone: 718-817-4518
University Church 03
Available for: General Campus Ministry, Post Graduate Volunteer Discernment, Drop-In Ministry, Social Justice Advocacy
---
Mr. Robert Minotti began his tenure at Fordham in the Fall of 1990.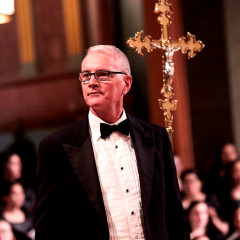 He is the first full time director of liturgical music for the University Church and the founder of the Schola Cantorum, the first student led choir to participate at the 11:00 Mass at the Church. In addition to liturgical music, Robert directs the Fordham University Choir. Robert's position at Fordham as a choral director's "dream job." As an organist, Robert is blessed that in 2012 the University showed its commitment to liturgical music by installing a world class new pipe organ -the Maior Dei Gloria Organ. When not making music Robert enjoys reading a good book, cooking (mostly italian), gardening, and the opera. .
Director of Campus Ministry for Liturgical Music
Email: minotti@fordham.edu
Phone: 718-817-4504
Fax: 718-817-4505
McGinley Center 206
Available For: General Campus Ministry, Organ Lessons.
---
Dr. Joan Cavanagh, PHD Director of Spiritual and Pastoral Ministry
at Fordham, has had the privilege of serving on all three Fordham campuses. Joan loves to help people find God in the midst of their ordinary lives and to accompany students, faculty, and staff on their unique life journeys during their time at Fordham. Joan enjoys supporting the students who are in our faith-based clubs and our LGBTQ students, in addition to her pastoral work with students who have suffered the loss of a loved one. As part of the Campus Ministry team, she is available for pastoral conversations and for spiritual direction. Joan brings her energy and enthusiasm to her ministry at Fordham. She looks forward to joining you on your journey! Please stop by and say hello!
Director of Campus Ministry for Spiritual and Pastoral Ministries, Director of Campus Ministry at Westchester Campus
Email: jcavanagh@fordham.edu
Phone: 914-367-3420
McGinley Center 105 and Westchester 133
Available for: General Campus Ministry, Spiritual Direction, Post Graduate Volunteer Discernment,Pastoral Counseling, Prayer Services, LGBTQ Ministry
---
Stephanie Roddy, or Roddy as most people know her,
is ecstatic to work with this year's retreat leaders and accompanying retreatant on multiple retreats this year. She loves nature and enjoys taking long walks outside near the water and trees. When not on retreats, Roddy loves to read, make art, and connect with friends. Roddy hopes that you will join us on one our Retreats this year! Stop by McGinley 103 to say hello!
Director of Spiritual Retreat Ministries
Email:sroddy1@fordham.edu
Phone: 718-817-4539
McGinley Center 103
Available For: General Campus Ministry, Social Justice Advocacy, Post Graduate Volunteer Discernment, and Drop-in Ministry
---
Sr. Mary Catherine Redmond is a Sister of the Presentation of the Blessed
Virgin Mary, the older of four girls, and grew up in Kingston, NY. Her college career brought her to the State University of New York at Plattsburgh in the heart of the Adirondack Mountains and bordered by Lake Champlain. It was when Sr. Mary Catherine entered religious life that she was brought from beautiful mountains, rivers and lakes to the heart of New York City where she ministered as an Audiologist at NYU Medical Center until she went back to school to become a Physician Assistant. She currently works in a small city hospital not far from campus where she and others serve those most in need who live in the surrounding neighborhood. Her time at Fordham has included coordinating Christian Life Communities - small groups of students that are student led and gather weekly to reflect on life and get to know each other. She also serves as the moderator for Praise and Worship. Sr. Mary Catherine loves to be in nature, to sing, dance, have fun, play jokes and listen to the stories of people she encounters each day. She believes life connects in the story and is here to listen to yours.
Pastoral Minister with Christian Life Communities
Email: mredmond5@fordham.edu
Phone: 718-817-4504
---
Vince Peterson is Assistant Director of Liturgical Music at Fordham.
He holds music degrees from The San Francisco Convervatory of Music and Mannes College at The New School in New York City. A lifelong church musician, Vince "learned the ropes" in liturgy at his local parish, St. Phillip the Apostle, in San Francisco, where he became the Minister of Music at age 16. Since then, he has traveled the world as a choral conductor, pianist, and organist. Here in NYC, he is the Aristic Director and Founder of Choral Chameleon and the Artistic Director of Empire City Men's Chorus. He lives in the Bronx with his husband, David, who is a Hebrew Bible scholar, and their two cats, Estelle and Beatrice. http://www.vincepeterson.com
Pastoral Minister with Christian Life Communities
Assistant Director of Liturgical Ministries
McGinley Center 102
Lincoln Center Staff
Donna Lajoux has worked as the secretary of Campus Ministry Lincoln Center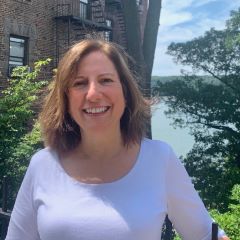 since 2014. She was born and raised in lower Manhattan's Chinatown and currently lives in the Bronx. Donna has two beautiful daughters, the oldest who is a registered nurse, and the youngest who works in finance and recently earned a masters from Fordham's Gabelli School of Business. Donna loves being part of the Fordham Family.
Executive Secretary
Email:dlajoux@fordham.edu
Phone: 212-636-6267
Lowenstein 217
---
Erin Hoffman is starting her 10th year at Fordham!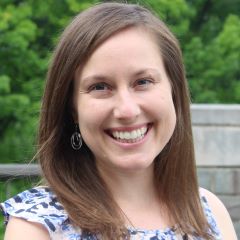 She lives with her family in McMahon hall at Fordham Lincoln Center, where her main goal is to help students thrive during their time at Fordham. She facilitates Campus Ministry initiatives and partnerships for LC, which include interfaith initiatives, social justice conversations and programs, liturgy and spirituality events, and peer ministry, among others. Erin loves all things, well, most things, politics and won't shy away from an opportunity to have an engaging conversation about current events, social justice, and civic engagement (vote!). Perhaps this comes from her background studying international politics and foreign policy in college or social work with a global practice focus in graduate school. Erin is a proud (and tired) mom to kids Clara (4.75) and Ronan (2) who are very excited to have students return to McMahon hall and delight in saying hi to everyone they meet. If you find one of them wandering solo on campus, please return to Campus Ministry or McMahon 6G!
Associate Director of Campus Ministry for Spiritual and Pastoral Ministries at Lincoln Center, Director of Ignatian Initiatives
Email: ehoffman12@fordham.edu
Phone: 212-636-6318
Fax: 212-636-7212
Lowenstein 217B
Available for: General Campus Ministry, Post Graduate Volunteer Discernment, Pastoral Counseling, Drop-In Ministry, Social Justice Advocacy.
---
Our Interns
Kristen is a rising junior at FCLC this year.
She is studying psychology and visual arts, with the hopes of one day becoming a certified expressive arts therapist. Kristen loves the Campus Ministry community for many reasons, but especially for the welcoming community that makes it up. When she is not practicing yoga, Kristen can be found dancing, making art, spending time with family and friends, or exploring the city. Kristen has many passions and interests and she looks forward to being able to explore these interests and share them with others. She is excited to continue her Catholic Student Fellowship group this year and open to finding new creative ways to explore her faith.
---
Olivia grew up in LaCrosse, WI,
which is a relatively small town along the Mississippi River. She is a sophomore in the Gabelli School of Business and her major is Business Administration with a dual concentration in Marketing and Management and a minor in Visual Arts. She is a wedding intern at the CM Rose Hill office and one of her favorite parts of the job is getting to meet and interact with a bunch of cool alumni - "Go Rams!" In her free time, she loves to paint and golf. Outside CM, Olivia is the Special Events Coordinator for the Rose Hill Society and the Logistics Chair for Fordham's chapter of St. Jude Up 'Til Dawn. In the future, she hopes that CM continues to be a space where people from all backgrounds can go and feel like they're part of a family away from home. She strongly suggests that people wanting to get more involved in CM pay attention to the weekly newsletter!
---
Catalina is a junior at FCLC from Santa Clarita, California.
She is majoring in Mathematics with a double minor in Theology and Spanish (a very strange combo she knows!). Catalina plans to attend law school somewhere on the east coast and concentrate in corporate law. She has been a Campus Ministry Intern since her first year at Fordham and she spends too much time in the office (only because she loves everyone in the office and never wants to go home). Catalina is also a Retreat Leader this semester so she definitely recommends going on a retreat and hopes to see you on campus!! Her favorite place to go in NYC is the Turnstyle Underground Market on 60th and 8th. Outside of Campus Ministry you can find Catalina in the Math Help Room!
---
Triona is a junior at Fordham College Rose Hill from Cupertino, California.
She is majoring in International Political Economy with possible minors in Visual Arts and Peace and Justice Studies in hopes to one day work non-profit around the world. Besides working in the Campus Ministry Office, she is also a retreat leader, a member of the praise and worship band, and an RA in Walsh Hall. Some of her favorite things in life are painting, playing guitar, 60s/70's music, art, and culture, long road trips, a new journal, and receiving mail. Triona recommends getting involved with Campus Ministry to strengthen your spirituality (whether you are religious or not!) and to be a part of an incredible, supportive community.