Innovative Humanitarian Solutions
The Institute of International Humanitarian Affairs innovates solutions to complex humanitarian challenges through collaborative research and exploration. IIHA Research Fellows contribute to the knowledge of our undergraduate students, the mainstream media, and the general public through events, press engagement, and academic publishing.
The Institute works alongside government entities, non-governmental organizations, like-minded academic institutions, and the private sector to address some of today's most pressing humanitarian challenges.
Current Research Initiatives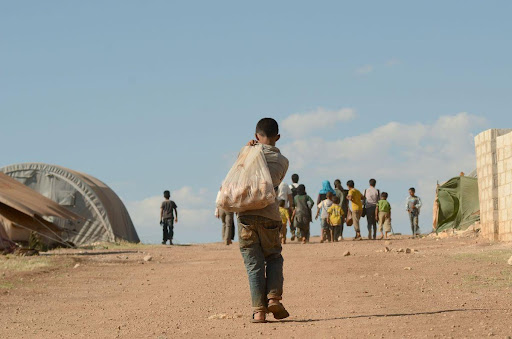 Watchlist on Children and Armed Conflict and Fordham University's Institute of International Humanitarian Affairs (IIHA) are pleased to share their new joint policy paper, Denial of Humanitarian Access for Children: Legal, Policy, and Operational Challenges.
The policy paper examines the international legal framework on denial of humanitarian access as it applies to children; the impact of counterterrorism measures, sanctions regimes, and donor conditionality clauses affecting humanitarian access for children; the various forms of denial of humanitarian access and their consequences on children, including emerging obstacles such as the COVID-19 pandemic; the challenges of monitoring and reporting on the denial of humanitarian access in the context of the UN's CAAC mandate; and the potential risks and opportunities of making the denial of humanitarian access a trigger for listing perpetrators in the Secretary-General's annual report on children and armed conflict. The paper concludes with a series of recommendations directed to the UN and its Member States, donors, and the humanitarian community, to influence normative and policy change.
2022 Research Initiatives
At a time of heightened and prolonged global calamity, humanitarian actors persistently strive to design sustainable relief and recovery operations that restore dignity and foster resilience of affected populations. Similarly, a growing community of designers from diverse disciplines - ranging from the built environment and emergency architecture to product and graphic design - endeavor to contribute their skills for social change and humanitarian action.

In partnership with the International Organization for Migration (IOM), the IIHA explores the intersection of design and humanitarian action through the multi-year Design for Humanity Initiative for more dignified and sustainable humanitarian design.

Humanitarian Design Fellow

Alberto Preato

Alberto Preato is the Senior Regional Program Coordinator at the International Organization for Migration Regional Offices for South America, Buenos Aires. He received a Master's Degree in Sustainable Emergency Architecture at the Universidad Internacional de Catalunya in Barcelona and holds a Master in Sustainable Architecture at the Università IUAV (Venice, Italy). Alberto Preato has been on the frontline of some of the most challenging humanitarian responses to natural disaster and complex crises. He has been deployed to Mozambique, Colombia, Haiti, Honduras, Vanuatu, Fiji and Niger. At the IIHA, Alberto works with designers and humanitarians to research and present innovative design solutions that better respond to the needs of crisis-affected populations.

With 50 million children forcibly displaced and uprooted from their homes worldwide, millions lose the opportunity to access education. Providing quality education to displaced children gives them a sense of stability keeps them safe, and allows them to flourish and learn amidst crisis. The IIHA Education Fellow conducts analysis and research on best practices and solutions for providing quality education during and after humanitarian crises.

Helen Hamlyn Education Fellow

Nadezhna Castellano

Nadezhna Castellano is currently the Helen Hamlyn Education Fellow at the Institute of International Humanitarian Affairs at Fordham University and the co-director of the course on Education in Emergencies for the IIHA. She is responsible for developing the capacity of the Institute in researching and designing innovative proposals that promote quality and durable educational solutions for forcibly displaced populations. She holds a Ph.D. in Educational Psychology by Salamanca University, where she worked as Assistant Professor between 2007 to 2013. Since then, she has worked as an Education in Emergencies specialist. Between 2013-2017 she worked as International Education Specialist for the Jesuit Refugee Service. She was in charge of developing and supervising the implementation of JRS Education Strategy in 14 countries, including Chad, South Sudan, Nigeria, DRC, Kenia, Lebanon, Jordan, Myanmar, and Sri Lanka, among others. She has also worked as an independent evaluation consultant for different humanitarian and development agencies. Her work focuses on improving the quality of education for the forcibly displaced children and youth by linking research and practice, with a particular emphasis on Teacher Professional Development. Nadezhna is currently the IIHA-Fordham representative at INEE-Standards and Practice Working Group and member of the Teachers in Crisis Conflict (TiCC) collaborative.

Led by the IIHA Helen Hamlyn Senior Fellow, this research area focuses on developing projects, conducting field mission, teaching courses and publishing academic texts on issues of the protection and assistance needs of migrant children on both sides of the US-Mexico border, reintegration of child soldiers, the provision of quality education to displaced children, and emerging issues of counterterrorism legislation on child soldiers recruited by armed groups.

Helen Hamlyn Senior Fellow

Laura Perez

Laura Perez is the Helen Hamlyn Senior Fellow at Fordham University's Institute of International Humanitarian Affairs, overseeing the undergraduate and graduate programs in humanitarian studies. She is an expert on the protection of children in situations of armed conflict and on the UN Security Council's children and armed conflict agenda. She has 15 years of experience working on these issues in New York and Geneva, and in the Central African Republic, Chad, the Democratic Republic of Congo, Mali, and Nigeria. She previously served as Humanitarian Advocacy and Policy Specialist with UNICEF, Child Protection Team Leader with the UN Department of Peacekeeping Operations, Central Africa Analyst with the Internal Displacement Monitoring Center, Protection and Advocacy Adviser with the Norwegian Refugee Council, Protection Officer with UNHCR, and Coordinator of the Refugee Assistance Program of the New York City Bar Association. She holds an International Diploma in Humanitarian Assistance from Fordham University, a Master's Degree in Political Science from Université de Bourgogne, and a Bachelor's Degree in Literature and Society from Brown University. Originally from Venezuela, she is fluent in English, French, and Spanish.

Blockchain for Humanity

The Blockchain for Humanity Initiative led by the Institute of International Humanitarian Affairs aimed to create a platform for technology experts, scholars and humanitarian practitioners to identify, discuss and recommend policies concerning the application of blockchain technology for humanitarian action.

The Blockchain for Humanity Initiative aimed to:

Highlight a range of piloted and pioneered blockchain initiatives for humanitarian action
Facilitate the ethical adoption of humanitarian blockchain solutions in response to technical, legal, and governance challenges facing the humanitarian sector
Connect professionals from across sectors to foster new partnerships, encourage technical collaboration, and explore nontraditional funding sources
Assemble a database of blockchain initiatives that respond to the technical, legal, and governance challenges in the humanitarian field
Build a digital community of developers interested in impacting humanitarian assistance

The Institute of International Humanitarian Affairs held two Humanitarian Blockchain Summits.

In 2017, the Humanitarian Blockchain Summit focused on pilot projects paving the road of blockchain in the humanitarian and development sector. In 2018, the Summit focused on blockchain infrastructure, exploring the role and potential of the different platforms in shaping future applications. The Summits facilitated engagement between major humanitarian and development actors and blockchain platform experts from companies like Ethereum, Hyperledger, Iota, and others.

Humanitarian Innovation Fellow

Giulio Coppi

Giulio Coppi joins the IIHA with more than ten years of humanitarian professional experience managing operations in South America, West and Central Africa, South and Central Asia. Giulio earned his BA, MA and MAS in International Law with a specialization on Humanitarian Law and Human Rights in conflict. In his career, Giulio has cooperated with NGOs, Universities, the UN, the OECD and the ICRC. At the IIHA, Giulio oversees the Humanitarian Innovation program of the Institute, with a special focus on Open Source technology and community-based approaches. For this purpose, Giulio fosters relationships with all relevant interlocutors from the non-profit, private, and public sector alike in order to create broad partnerships and to promote a meaningful public debate on the global right of access to life-saving technology. Giulio is also the founder and administrator of the platform High Tech Humanitarians (HTH), of which IIHA is an official partner. HTH is a web based initiative dedicated to the gathering and improvement of open source humanitarian tools, to allow universal access to life-changing technology and to mark the beginning of a continuous bottom-up innovation process.
Please check back soon for our 2024 research initiatives. In the meantime, we invite you to take a look at our previous initiatives. Follow us on your favorite social media channel for updates.