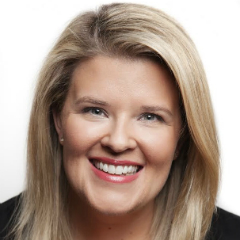 Christie L. Houlihan, LAW '11
Christie L. Houlihan, LAW '11, is senior director and counsel at Houlihan-Parnes Realtors LLC. Her work focuses on development, financing, and legal representation for the company's portfolio of more than 8.5 million square feet of office, retail, industrial, and mixed-use space and more than 25,000 multifamily units across the United States. The firm is engaged in acquisition, disposition, mortgage brokerage, leasing, property and construction management, and consulting services for all commercial real estate asset classes, both for the company's portfolio and for third parties.
A graduate of Northwestern University and Fordham University School of Law, Christie also holds a certificate in real estate finance and development from MIT. Prior to joining Houlihan-Parnes, she worked as a commercial real estate attorney at several law firms in New York. She worked on Hillary Clinton's 2006 Senate reelection campaign and served on the staff of the Committee on Energy and Commerce in the U.S. House of Representatives, where she worked to reauthorize and expand health care coverage for more than 9 million children under the Children's Health Insurance Program.
Christie is a member of the President's Council of Fordham University and sits on the board of directors of New York Edge, which provides after-school, weekend, and summer tutoring, sports, and arts education to more than 35,000 underserved children in Westchester and New York City public schools. She invests a significant portion of her time to supporting women political candidates at the state and federal level, serving on the advisory board of the New York Women's Collective. In 2018 she received the Rising Star Award from the Business Council of Westchester, and was named to City & State New York's "Westchester Watch List" of 10 up-and-coming leaders from Westchester County.