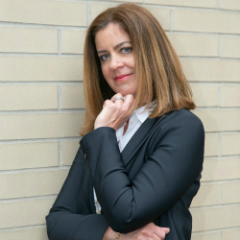 Kathleen Entwistle, GABELLI '92
Kathleen Entwistle, GABELLI '92, is a senior vice president for wealth management and a financial advisor at UBS. She is also a Certified Financial Planner and a Certified Divorce Financial Advisor. Kathy received her B.S. in business administration from Providence College and her M.B.A. in finance from Fordham. Since their inception, she has been named annually to both the Forbes "Top Women Wealth Advisors" and "Best-In-State Wealth Advisors" lists. She was also highlighted in the June 2019 issue of Forbes Magazine. She is a frequent panelist and guest speaker who lends insights and advice on careers, personal success, and giving. She has been a guest on CNBC, Fox Business, Yahoo Finance, Cheddar, and The Street, sharing her thoughts on the markets, the economy, and how to strategically position your investments.
Kathy has been an advocate for women for decades, and she has personally educated thousands of women on their financial picture and worth. She speaks with millennial women frequently, sharing career advice and investment strategies that can guide them to forging their own individual path of success. Kathy has created her own definition of success by continuously making decisions based on what made sense to her and how it aligned with her priorities. While she was working at Manufacturers Hanover Trust Company as a trust officer and was halfway through the M.B.A. she was pursuing at night, she left work to stay at home with her first child, Sarah. Two years later, and five months pregnant with her second child, Kevin, she graduated from Fordham University with her degree.
After staying home to raise her family, Kathy returned to the workforce and started her business from scratch. Now, 18 years later, she manages approximately $375 million of her clients' personal wealth and continues to work hard to make a positive impact in the lives of others.