Mental Health Counseling & Spiritual Integration
We want your time with us to be enriching. Read on to learn from the experiences of our graduates.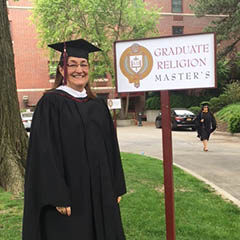 Donna Cahill | M.A. in Pastoral Care
I was raised in the outskirts of Pittsburgh, PA, received a Catholic primary education, and a bachelor's degree in Elementary Education from the University of Pittsburgh. The bulk of my career has been in leadership positions in social services and education having recently retired after nearly twenty years serving as Executive Director for Holy Family Day Home, a non-profit organization providing early childhood education and family support services predominantly to low-income and homeless children and their families.
Twenty-eight years ago a prayer retreat in Medjugorje, Bosnia/Herzegovina rekindled my faith and my passion to serve God. Since then I always felt that I was serving God through my social service and management work. However, I didn't feel qualified to directly discuss spiritual things in a way that would help others rekindle and/or develop their own spirituality. I looked locally for a masters program that would be compatible with my busy work schedule but there were no pastoral ministry programs in my area. All religious related programs were theological and not focused predominantly on ministry and counseling. I searched online and Fordham's GRE was exactly what I'd hoped I would find.
The program did not disappoint. I was immediately impressed with the faculty having Dr. Kirk Bingaman as my first professor. He is literally brilliant yet able to present complex material in a way that is easily understood by an extremely diverse student population who were often new to the field. He provided regular individualized feedback in such a way that I always felt he knew exactly where I was at any given time on any given topic. Like the rest of the GRE faculty, Dr. Bingaman structured the course in such a way that students were afforded regular opportunities to learn from each other and support each other on their academic journeys. While the workload was rigorous it was manageable because he understood that most students were full-time employees with lives and also busy with family and friends.
While Dr. Bingaman and Dr. Beaudoin stand out for me as model professors, the entire GRE faculty and administrative staff are highly qualified educators and administrators who regularly demonstrate true care and concern not only for the education of each student but also for their general well-being.
As for my online learning experience, the Blackboard software allows students from all over the globe to readily access the classroom material and fellow student conversations. I cannot rave enough about Fordham's technical support staff. Many times I worked with them regarding technical problems that were largely related to user error. They were patient, thorough, and always readily available.
I believe Fordham's pastoral care program has prepared me well to be present to others on their spiritual journeys. It has done this not only through its cutting edge curriculum but also because it has helped me discover a level of self-awareness that I never knew I needed. These insights will help me be a better listener and therefore, more fully present to others without imposing my own biases.
One point of advice to share with potential students of the program– dive fully into the material not only with your mind but more importantly with your heart and soul. You will discover much about yourself and be better prepared to serve the world in all its diversity.
My future plans? I recently began to assist a local Catholic priest with his ministries. He is responsible for inspiring the formation of nearly 500 prayer groups in the San Francisco and Dayton regions. I hope to provide spiritual direction in some form yet at this point I don't know exactly what shape my ministry will take. We are now beginning to explore the need for a Marian retreat center and the possibility of establishing a Bay Area Information and Resource Center for those interested in understanding the role of the Blessed Mother in their faith journey. I pray that whatever shape the ministry takes it will honor Jesus and our dear Blessed Mother in a special way.
---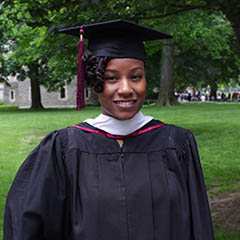 Photo credit: Jessica Hughee
Tara Hughee| M.A. Pastoral Counseling and Spiritual Care
Where are you originally from?
I am originally from New Rochelle, NY where I lived for 14 years. I then lived in Riviera Beach, FL where I completed high school and then college at Florida Atlantic University.
What drew you to our program?
After I finished my degree in multimedia journalism, I still wasn't satisfied with my initial career path. I was working as a social media and marketing associate but desired a program that would equip me for a career that would be the perfect combination of my faith and desire to help people. For years my friends and family thought I would make a great counselor but I did not truly realize it until I was at the crossroads between a journalism graduate program and a counseling program. Once I decided to follow where I believe God was calling me, I made a google search for pastoral counseling programs. Fordham University was at the top of the list. I was immediately drawn to Fordham due to its reputation as a great institution but I was especially drawn to the GRE as what I desired for my life - a blend of divine calling and career.
What is your academic/ministerial background?
My background is in journalism as well as sociology and women's studies. However, faith and spirituality have always been part of my life. For years I was involved with a church plant my family began in our neighborhood community center. Though we were a small church family it had a big impact on my life. This experience also influenced my decision to pursue a degree in pastoral counseling.
Tell us a little about your Fordham GRE experience.
I remember feeling nervous during my first day of class at Fordham GRE. I walked into Human Growth and Development with a blonde-tipped mohawk hairstyle and combat boots unsure if I would fit in with my classmates, some of whom were clergy. I was soon proven wrong. Part of what I will miss about Fordham GRE is the relationship I had with both my peers and the faculty.Though I wished the community of students at Fordham GRE was closer, I was able to bond with a few students who encouraged and pressed each other on. We would share tips on the internship search, give assistance of difficult course material, or just have small talk. As a graduate assistant I worked closely with the staff and professors and gained great insight from them. I appreciated how much the faculty genuinely wanted their students to succeed. Their passion was evident in their work both inside and outside the classroom.
If you were asked to describe the pastoral counseling and spiritual care program what are some things you would say?
As I shared previously, the pastoral counseling and spiritual care program is like the perfect blend of divine calling and career. Not only was I taking courses such as Theology of the Human Person, I was also taking Psychopathology and Diagnosis and Research Methods. The program helps you to explore mental health issues and spiritual concerns that are likely to come up in session with future clients.
Talk about your clinical field placement. What was your overall experience?
My clinical field placement was at STEPS to End Family Violence which provides individual and group counseling to victims of domestic violence. The program serves a diverse population of adults and children most of which are minorities. Though I was nervous on my first day, the staff made the transition from student to counseling intern as smooth as possible. Their passion for this work was infectious and encouraged me to give my best to my clients. At STEPS I was able to serve my clients not only as their counselor but also as an advocate. It was challenging but fulfilling work which allowed me to expand my compassion for others and my counseling skills.
I was blessed to find STEPS while working a summer internship unrelated to the pastoral counseling program at the Manhattan Family Justice Center which also serves victims of domestic violence. During a staff meeting I met the clinical director of my soon to be field placement. After she shared the need for an extra intern in the fall I approached her immediately. Within a couple of weeks I was part of the STEPS team. Networking was a huge part of the internship search for me! What could have been seen as just an unpaid summer internship later became an amazing opportunity.
What was your experience with online learning?
Quite a few of my classes in the pastoral counseling program were online. I would often share with classmates and prospective students that online learning has its pros and cons. My commute to school was about an hour and for some of my classmates the commute was even longer. Online learning allowed me to get through the readings and material without fighting overwhelming traffic. I also liked the recorded lectures that I could refer back to as much as I wanted.
Now for someone like me who struggles with procrastination, you have to be disciplined or else you'll have a load of reading and assignments to do before a fast approaching midnight deadline. That was the case for me on quite a few occasions!
What are your plans post-graduation? What are you most looking forward to in your new job?
In May I was hired as a senior counselor at my field placement site STEPS to End Family Violence. To say I was excited would be an understatement! Aside from continuing my work with a great staff I am most looking forward to supporting my clients and assisting them in living lives free from the effects of abuse.
What is one piece of advice you would share with prospective students?
Be proactive not reactive! It was my motto throughout the pastoral counseling program. During my first semester I planned my entire program - start to finish - with my advisor Dr. Lisa Cataldo. Planning ahead keeps you from stressing about deadlines and prepares you for the unexpected such as canceled or full classes.