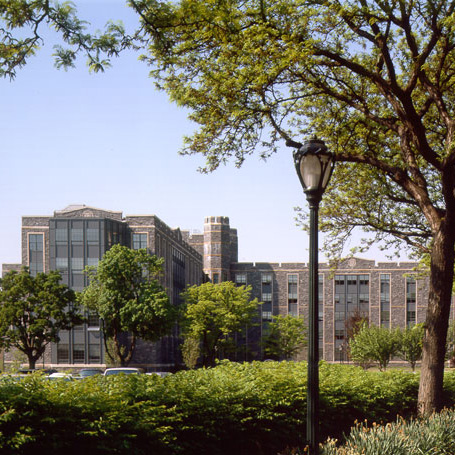 This three-wing, five-level complex, made up of 13 "neighborhoods" houses 560 students. The majority of the bedrooms are doubles, with a significant number of singles and a small number of triples. Each double and triple bedroom has a private bathroom which is shared with the residents of an adjoining room. Occupants of single bedrooms share a bathroom with one other single bedroom occupant. O'Hare Hall features 13 community lounges (each equipped with living room furniture, a kitchenette, and a TV and DVD player), eight quiet study lounges, and four seminar rooms.
O'Hare's staff consists of two resident directors, 13 resident assistants and two Jesuits-in-residence. These staff members encourage all students to share in the goals of living in a residential college and of a Jesuit education.
O'Hare Hall's architecture facilitates an atmosphere that bridges residents' academic and social needs. The events and activities planned by the staff encourage all students to learn and grow. Many programs develop in residents a sense of community and citizenship, which will become essential in life after graduation.
O'Hare Hall Residential College is also home to 4 Integrated Learning Communities:
West Wing: Integrated Learning Community for Ignatian Leadership and Civic Service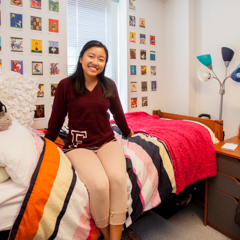 Fast Facts
Population: 560 Upperclassmen
Room Types: Singles, Doubles, Triples
Double and triple bedroom have private bathrooms
Singles share a bathroom with one other occupant
Typical Room Dimensions: 12 x 20 feet
Storage space underneath a bed: 26 inches maximum
Mattress size: 36 x 76 inches
Features
13 community lounges with living room furniture, a kitchenette, and a TV
8 quiet study lounges
4 seminar rooms
O'Keefe Commons, a room that can accommodate up to 350 people for functions and events
Elevator
Air Conditioning
DVD Player
Housing Rates
Rates are for the nine-month academic year and include all utilities, cable television, telephone service, laundry, and membership to the Lombardi Fitness Center. These rates do not include the residence hall activity fee.
All residents in this dormitory are required to have a meal plan.
See the current room rates for O'Hare Hall. Room configurations and rates are subject to change.
Move-in dates vary, please see Important Dates for more information.
Standard Rooms in O'Hare Hall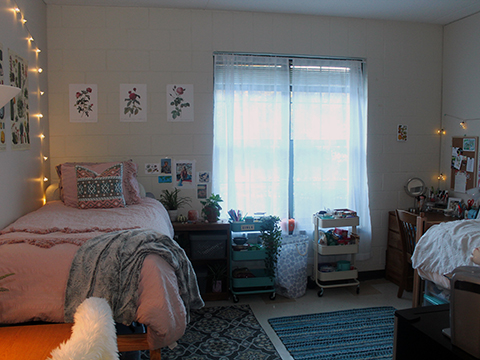 O'Hare Hall dorms includes utilities, cable, phone, laundry, and access to a fitness center.
O'Hare Hall Double and Triple come with their own private bathroom.
An O'Hare Hall Double bedroom has enough space for two beds and dressers.