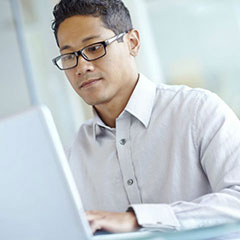 The Office of Sponsored Programs is happy to help you locate funding for your project. Please feel free to make an appointment with us. There are also a number of websites you can use to do an initial search, and email alerts you can sign up for. A brief listing is below; if you have a favorite you'd like to share with others please visit our Contact Us link to the left and we'll add it to the list.
Funding Search Aids
Federal Register
Daily notices of grants and other government business.
Foundation Directory Online and Foundation Grants to Individuals Online
Provided by The Foundation Center here in New York, these are searchable databases of private and corporate foundations. You can access them through the Fordham Libraries website by clicking on the Databases tab, searching for "Foundation" and following the guidance. (Note: a Fordham log-in is required to access the passwords.)
Grant Forward
Search for opportunities from government sources, private foundations and corporations. This replacement for the well-respected IRIS database is a subscription service for Fordham. Many helpful video tutorials and documents are located on the Grant Forward support page. Anyone with an @fordham.edu email address can register for this service to create a profile, search for opportunities, and sign up for email notifications.
Grants.gov
At this free government website, you can search for funding opportunities from 26 Federal sponsors, and sign up for email notifications about specific funders, opportunities, or to be notified every time there is a new opportunity posted, regardless of sponsor.
H-Net
The Humanities and Social Sciences ONLINE Network, based out of the History Department of Michigan State University, provides information on funding, jobs and publications.
Health Research Funding
The National Health Council, with assistance from the National Institutes of Health, created this website to assist NIH researchers who received a good score on an application, but did not receive funding, find other avenues to fund their research. Investigators register, upload information about their unfunded proposals, and sponsors registered on the same site can review with an eye towards funding them.
Humanities Grants Calendar
Compiled and periodically updated by our Grants Officer for the Humanities, Beth Torres, this calendar will help you keep track of upcoming opportunity deadlines and plan ahead.
Instrumentl
Instrumentl is a match-making service between science projects and funders within the fields of non-human biology, ecology and environmental sciences. The basic service is free; there are subscriptions packages if you want a more advanced search.
MLA list of Fellowships and Grants
The Modern Languages Association's list of fellowships and grants, with a handy calendar. Includes opportunities in other Humanities disciplines as well.
Nonprofit Gateway
Provides links to Federal government information and services.
Email Alerts (other than those listed above)
National Institutes of Health
Email alert services provide news about grants policies and guidelines as well as newly listed funding opportunities.
National Science Foundation
Email alert service provides information about newly listed funding opportunities.
US Department of Education
Email alert service provides information about newly listed funding opportunities, activities and research trends.