The Fordham Undergraduate Research Journal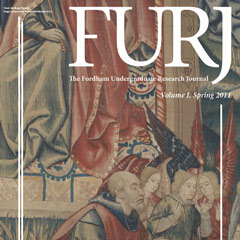 The Fordham Undergraduate Research Journal, or FURJ, is a student-run journal that features high quality, peer-reviewed, original research conducted by undergraduate students.
FURJ is an interdisciplinary journal, accepting submissions conducted by undergraduate students in the sciences, humanities, and social sciences. FURJ welcomes submissions from current Fordham students and recent graduates as well as students from other universities who conducted research at Fordham.
The journal also includes scholarly book reviews, review essays, and feature articles. All research articles undergo a rigorous double-blind peer and faculty review process. The journal is published annually—in print and online—in the spring semester.
We are so pleased to share that Volume X was completed in spring 2020 while our team was scattered around the country during the pandemic.
View past issues of the Fordham Undergraduate Research Journal.