Stories from Fordham College at Rose Hill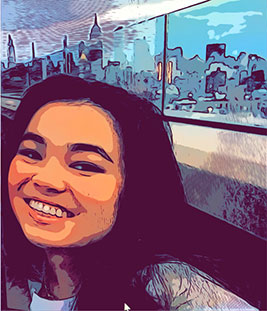 I've had incredible internships that I wouldn't have been able to get without Fordham. Right now, I'm working on The Tonight Show Starring Jimmy Fallon—yeah, it's super cool. I also interned at Adweek: My interviewer and half the marketing team is from Fordham, and I worked closely with five or six Fordham alumni. There are definitely a lot of big Ram fans out there.

Kiyana, FCRH '21
Film and Television and Communications and Culture double major
Your opportunities open up early.
We don't think you should have to face cutthroat competition or wait until you're a junior to have great internships. FCRH students start having these experiences as early as their first year. And with Manhattan a quick ride by train or campus van, there are limitless opportunities to do well and do good—the Fordham name opens doors for you in every field and sector.
---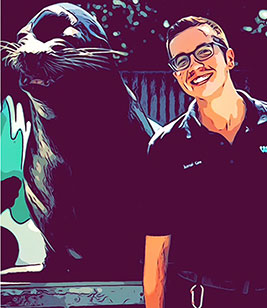 In high school, I kept debating my plans. I loved working with animals. I loved politics. Would I have to choose one or the other? The beauty of Fordham College at Rose Hill is that it showed me how I could do both. You're really not siloed. It expanded my sights and still got me where I wanted to go.

John, '12
Environmental Studies and Political Science double major
Wild Animal Keeper, New York Aquarium Volunteer Organizer for Rep. Alexandria Ocasio-Cortez
Inspiration, clarity, direction.
One of the way students here find their path (or paths) is through our Core. It's not your typical set of requirements: The Core is a cohesive, four-year journey with your classmates and professors through big, complex ideas and it's also an opportunity to explore with focus and structure--a valuable experience whether you're certain of your major (or majors) or are still exploring.
---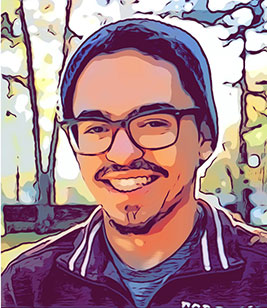 In my sophomore year Core philosophy course, we had to argue a position we completely objected to. It was the most worthwhile thing I've ever done, because at the end I had a better appreciation for how important it is to understand both sides-- not just look for things that support your position. It's about knowing as much as you can.

Ben, FCRH '22
Psychology
Never underestimate the power of eloquence..
Our emphasis on well-formed habits of noticing, synthesizing, knowing, and expressing will take you far. We want you to have a seat at the table—to be a powerful advocate for yourself and an ally for others.
---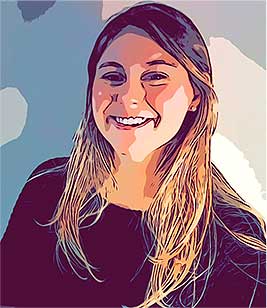 I really wanted an internship at this particular law firm. I got names from the alumni directory and sent out 20 emails—they didn't know who I was. My friend said, 'Maybe you'll get one or two responses.' I got 15 responses, including from partners at the firm! And each one was more willing to help me than the last.

Olivia, FCRH '21
Communications and Political Science double major
Our alumni are your superfans.
They'll answer your emails, offer real-world-tested advice and mentoring, help you get internships, and promote you in their networks. After all, you're a member of the Ram-ily.
---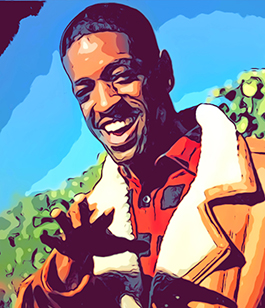 Every job since college has had a Fordham connection. Right after graduation, I was a New York City Urban Fellow, which I got through Fordham. Then I worked in the press office of the Manhattan District Attorney, and the deputy communications director was a Fordham alum. And now I work with two or three other Fordham alumni. So I feel like everywhere I go, it's like finding family, really.

Justin, FCRH '14
Political Communications Consultant and former Press Secretary, Manhattan District Attorney's Office
That sense of community and belonging you feel here? It stays with you.

Fordham College at Rose Hill is home to people who are curious and collaborative by nature. There's always someone ready to help you take an idea further and bring out the best in you. That doesn't go away after you graduate. Rams stay connected because they bring out the best in each other.
---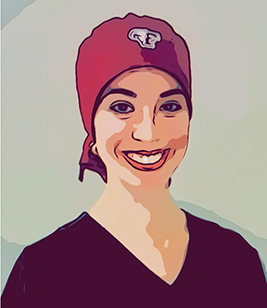 I'm a cardiothoracic surgery physician assistant (PA) and proudly wear a Fordham scrub cap of my own design. A surgeon I work with is also an alum with his own Fordham scrub cap--we bonded immediately! Surgical teams can be somewhat hierarchical, but the beauty of a Fordham education is its power to overcome all boundaries. I'm proud to be a Ram.

Victoria, FCRH '14
Surgical Physician Assistant
Good vibes run in our Ramily.
FCRH alums are grateful for how the experience broadly and humanely shaped their lives. They know that excellence means being more and doing more for the world. It's a good thing to have in common.