The Matteo Ricci Seminar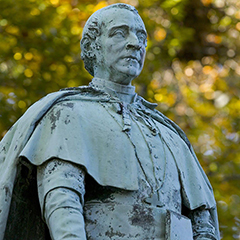 The Matteo Ricci Seminar prepares high-achieving students to compete successfully for prestigious fellowships and internships and/or develop their research ideas. Funded through the generosity of Fordham College Rose Hill alumni, the seminar is directed by faculty member(s) with strong support from the FCRH Dean's Office and the Office of Prestigious Fellowships.
In the Matteo Ricci Seminar, you will:
Participate in monthly meetings throughout the academic year.
Meet distinguished alumni and guest visitors, along with other faculty.
Prepare key materials for applications with feedback from faculty, peers, and our distinguished guests.
Debate and discuss important issues to the contemporary world.
Attend public lectures and other academic and cultural events in New York City.
The year-long seminar provides students with opportunities to develop their knowledge of pressing social issues and global challenges, gain a stronger sense of their personal abilities, and learn how best to articulate intellectual and personal goals in fellowship applications and interviews.
The first semester of the seminar focuses on helping students develop a broad-based perspective on the contemporary world, their location in it, and the role of learning in creating a more just society. During this time, readings, discussion, and activities will center on providing a larger societal context by which to inform potential research ideas and interests. In the second half of the year, students will develop their ideas with mentorship from the seminar leaders and other faculty with an overall goal of presenting findings at the Undergraduate Research Symposium and potentially linking projects to fellowship applications
Students who participate in the Matteo Ricci Seminar are encouraged to compete for prestigious fellowships and scholarships, such as the Fulbright, Gates Cambridge or Rhodes Scholarship. Recent scholars have gone onto receiving Fulbrights, acceptance into top-tier law schools, publishing their work, as well as developing research projects locally and even abroad.