Academic Advising for FCRH Students
During your first three semesters at Fordham College at Rose Hill, our signature Core Advising Program prepares you for major declaration, study abroad programs, undergraduate research, internships, and all other opportunities you will receive at Fordham.
Our Core Advising Program focuses on:
Our goal is to help you discover your talents and passions by exploring the numerous options and opportunities available you at FCRH.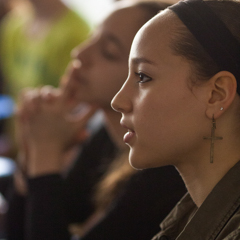 In both small-group and individual sessions, our program pairs you with the College's finest faculty, administrators, and upperclass student assistants, all of whom assist you in understanding the FCRH Core Curriculum and guide your intellectual pursuits.
Whether you are considering FCRH, or are a current freshman or sophomore, we strongly encourage you to consult our Core Advising " Essential Resources," either as a glimpse of what your Fordham education will look like, or for helpful guidance on your specific questions here and now. We also encourage you read the FCRH First-Year Dean's 10 points of advice for incoming students.