Steps to Declaration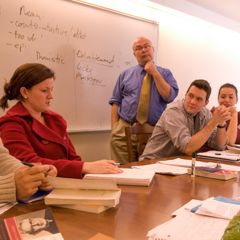 First, schedule a meeting with the Associate Chair of your major department or program advisor. Consult the list of departmental/program contacts for FCRH students.
Next, at the meeting, discuss the requirements for the major and your progress towards completion. Provide the Associate Chair or Program Advisor with your Fordham ID number and list of courses taken in the department or program. The Associate Chair or Program Advisor will complete the electronic Major Declaration Form. He/she will also assign your major department advisor.
Finally, the Associate Chair will electronically submit the form to Academic Records and your Class Dean. Once processed, it will be reflected on your Degree Works page on My.Fordham.edu.
Note to first years: if you declare a major at any point during freshman year, you will still remain enrolled in your section of Core Advising with your original advisor for the entire year, regardless of the major you declare. You are still expected to attend all required Core Advising individual and group meetings.
At your meeting with the Associate Chair/Program Director, be sure to discuss any changes that may occur in who will be responsible for, and able to, remove your advising hold before course registration (this person is your "primary" advisor).
Deadlines and Suggestions
All FCRH students must declare a major by the second week of February of their sophomore year. Otherwise, the Dean's Office will place a hold on your registration for the following fall.
It is suggested, however, that you plan your courses for the spring semester of sophomore year with a potential major in mind, even if it is not yet officially declared.