About Fordham College at Rose Hill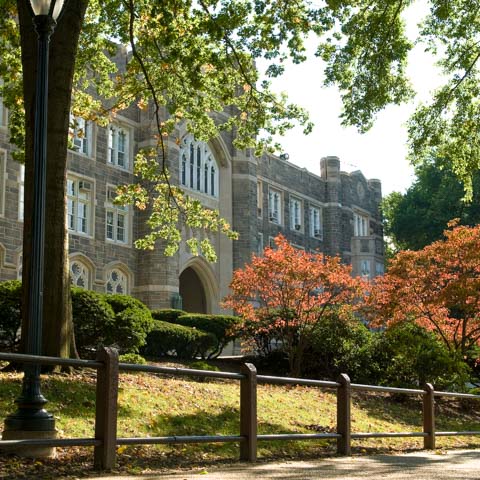 Fordham College at Rose Hill, the oldest and largest of the 10 colleges at Fordham University, has a long history as a Jesuit institution of higher learning with the purpose of providing its students with a sound liberal arts education. The College's Jesuit roots began in 1540 when St. Ignatius and his fellow companions took their religious vows and established the Society of Jesus. Since its inception, many Jesuits have devoted their lives to working in academic and social justice education, and this tradition continues today at Fordham College at Rose Hill.
The History of Fordham College at Rose Hill
Fordham College, founded originally as St. John's College, is located at the Rose Hill campus in the Bronx. In 1838, Archbishop John Hughes, began searching for a suitable site to establish a seminary and college. Finding the perfect spot at Rose Hill Manor, Hughes purchased the 100-acre farm bordering the Bronx River, and began construction on two buildings. Two years later, St. Joseph's Seminary was completed. A year after, on June 21, 1841, St. John's College opened. It was the first Catholic institution of higher learning in the northeast. At the time, six students were in attendance at St. John's College. John McCloskey, later the first bishop of Albany and then the first Cardinal of the United States, was named the College's president.
In 1846, St. John's College was sold to the Jesuit Order and Archbishop Hughes recruited five Jesuit priests from St. Mary's College in Kentucky to staff the institution. On April 10 of the same year, the governor of the State of New York granted the College a university charter. In 1907, after the recent addition of a law school and medical school, the name was changed to Fordham University; St. John's College became Fordham College. After remaining a men's college for 133 years, Fordham College merged with Thomas More College for women in 1974, becoming coeducational.
Cura Personalis and The Liberal Arts Core
Throughout its history, Fordham College has embraced the Jesuit idea of educating the entire student, promoting the idea of cura personalis, or care of the whole person. This is especially evident through the strong core curriculum embraced by the College. Since 1846 and the implementation of its first curriculum, Fordham College has continuously upheld the importance of a solid core curriculum to provide all students with a strong liberal arts education. The liberal arts education at Fordham College provides students with the knowledge, resources and background to enter the world with the ability to successfully contribute to the various fields of education, law, social service, religion, business and the arts.