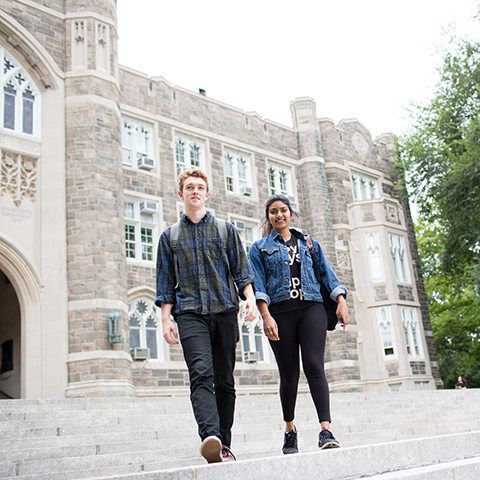 When you enter Fordham College at Rose Hill (FCRH), you join a thriving intellectual community. Across the humanities, the social sciences, and the sciences, you pursue a diverse
array of majors
and develop the critical and analytical abilities to excel in a wide range of fields and professions.
As a FCRH student, you have access to:
We encourage you to consider broader questions of social justice and personal responsibility. As you learn to discern and prepare for your own professional and personal callings, we'll urge you to enrich the lives of others, at home and abroad.
Life at the Rose Hill Campus
Beyond our commitment to high standards in academics and personal growth, you also enjoy:
A beautiful campus with expansive green spaces where you can study and reflect on your experiences.
A modern library that contains over 1,000,000 volumes and 380,000 government documents, archives, special collections, computer labs, and plenty of comfortable spaces to read, write, and research.
An array of clubs and student organizations that reflect your interests, both academically and personally.
Exposure to others who share your excitement of learning and who are seeking lifelong friendships.
We invite you to examine our majors, minors, certificates, and pre-professional programs. We also invite you to come visit us at Rose Hill in our vibrant Bronx neighborhood, where we can answer all of your questions in person.