Advice from a Distinguished Alumnus
A Letter to the FCRH Freshman Class
Dear FCRH Freshmen,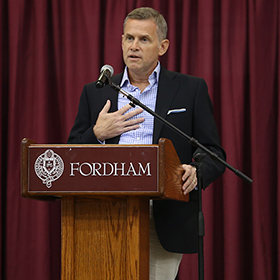 It's that special time at Rose Hill. The bright sunshine and a brisk breeze signaling the start of autumn, when our campus is transformed by a brilliant palette of colors.
When I spoke to you a few weeks ago at orientation, I had these very days in mind. You're settling in, meeting new friends, learning how to manage your time (hint: there's never enough!).
I just want you to keep in mind that while Fordham is a world-class university with a world-class faculty, what makes it a special place is you - your energy, your passion, your commitment and your ambition.
Make the most of this first year. Get involved and engage with your professors and classmates. Embrace Fordham's Jesuit values of intellectual curiosity, social justice and service.
It's an odd little equation, but it's true: the more Fordham that you can take with you when you leave Rose Hill, the greater the university that you will leave behind.
Take a deep breath and smile. You couldn't be in a better place.
All the best,
Pat Quinn,
Managing Partner, Cadwalader Wickersham & Taft LLP
Class of 1985