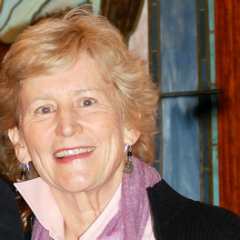 Joan Cavanagh, Ph.D.
Joan Cavanagh, Ph.D., is a familiar presence at Fordham University, where she has ministered for 22 years in various capacities. Currently she is the director of spiritual and pastoral ministry for the University, and she serves as the director of Campus Ministry at the Westchester campus. During her time at the University, Joan earned both a master's degree in counseling and a Ph.D. in educational leadership from the Graduate School of Education.
At Fordham, Joan wears many hats. She offers spiritual direction and pastoral counsel, works with student leaders of faith-based clubs, accompanies LGBTQ students, and provides bereavement outreach to students who have lost a loved one. During her time at Fordham she has developed and staffed many student retreats and has chaperoned international Global Outreach projects and concert choir tours. She is involved in much of Fordham's spiritual programming, and she accompanies faculty and staff who take part in the Spiritual Exercises of St. Ignatius, known as the retreat in everyday life. She loves that her work helps members of the Fordham community to find God in the midst of ordinary lives.
Joan is a huge fan of Ignatian spirituality, which has shaped her worldview and helped her to thrive. She is deeply grateful for her ministry at Fordham University.