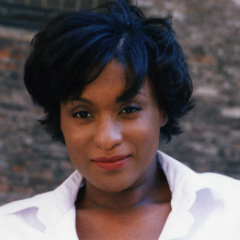 Lesley Massiah-Arthur, GSAS '12, '13
Lesley Massiah-Arthur, GSAS '12, '13, was born in Washington, D.C., and raised in the Bronx. She is currently the associate vice president for government relations and urban affairs at Fordham University. Prior to her tenure at Fordham, Lesley worked for the New York State Assembly Ways and Means Committee as a legislative budget analyst, where she specialized in housing, judiciary, and higher education issues.
Lesley has distinguished herself as one of the leading lobbyists for higher education in New York State. From economic development to education law to scientific research, she impresses many with her in-depth understanding of complex issues that face the higher education industry. Regardless of whether the issue affects the broader higher education sector or Fordham's particular institutional goals, the energy and passion that Lesley brings to any cause are almost inexhaustible; she is often working behind the scenes to improve the lives of New York's college students and their families. Beyond her work for Fordham, Lesley has lent her time and influence to a number of initiatives, including voter registration and after-school/summer programming for local youth.
Lesley received her bachelor's degree from the State University of New York at Albany and her master's degree from Fordham University. A 2009 Coro Fellow, Lesley also holds professional and academic certificates from Yale University and the University of Michigan. Lesley has been the recipient of a number of awards, including City & State New York's Above & Beyond Award for Outstanding Women in Public Service and SUNY Albany's Rockefeller College of Public Affairs and Policy Distinguished Alumna in Political Science Award.
Lesley is a member of the American Political Science Association, the National Conference of Black Political Scientists, Government Affairs Professionals, and the New York Women's Foundation. She resides in Mount Vernon, New York, with her husband, Jason Arthur, and their daughter, Leighton.