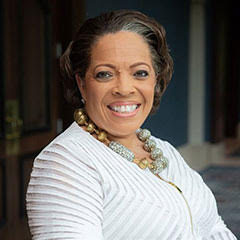 Valerie Rainford, FCRH '86
Valerie Rainford, FCRH '86, is head of advancing black leaders and diversity advancement strategies at JPMorgan Chase. As a member of the Human Resources Operating Committee, Valerie is charged with partnering with the firm's Operating Committee and head of talent management and diversity to deliver increased focus on attracting, hiring, retaining, and advancing top black talent at all levels of the organization. Celebrating three years in this role, the first of its kind, she has leveraged her masterful problem-solving skills to achieve historic results. Valerie has embedded transformative strategies that have yielded impressive gains, which include increasing JPMorgan Chase's black senior executive talent by over 70%.
Valerie takes best practices from the foundational work done to promote leadership and advancement within the black community to other diverse communities within the firm. Prior to joining JPMorgan Chase, Valerie served at the Federal Reserve Bank of New York for 21 years, where she rose to become the most senior black woman and the first to achieve a senior vice president title.
Valerie recently announced her decision to leave JPMorgan Chase at the end of the year to launch her own consulting practice. Her new organization will be dedicated to advancing black talent across companies and industries, and she will be looking to multiply her successes in moving the needle for black professional talent. Valerie will remain a consultant for JPMorgan Chase as they continue to build on the foundation that she built there.
Valerie is the author of an award-winning international memoir: Until the Brighter Tomorrow: One Woman's Courageous Climb from the Projects to the Podium (Eloree Press, 2014). She is also a board member of the Executive Leadership Council, the preeminent organization for the development of global black leaders; a founding member of the Black Women for Black Girls Giving Circle; and co-founder and board chair of Black Women of Influence. She earned her bachelor's degree in economics from Fordham College at Rose Hill, and she currently sits on the Fordham University Board of Trustees. Her leadership in and commitment to her communities have earned her numerous awards and distinctions, including spots on Black Enterprise's "Most Powerful Women in Business" list and The Network Journal's list of "25 Most Influential Women in Business".