Pioneering Women in Philanthropy at Fordham 2019
Rose Marie Bravo, CBE, TMC '71, CEO, Burberry (Retired)
Rose Marie Bravo, CBE, TMC '71, was vice chairman of Burberry, the international luxury goods company with headquarters in London, until June 2007. From 1997 until 2006, while serving as the chief executive of the company, she and her team embarked on a repositioning of the brand with strategic initiatives in design, marketing, merchandising, licensing, wholesale, and retail distribution.
Carolyn Dursi Cunniffe, Ph.D., UGE '62, GSAS '65, '71, Senior Vice President, Cablevision Systems Corporation (Retired)
Carolyn Dursi Cunniffe, Ph.D., UGE '62, GSAS '65, '71, has had a successful career as an executive in the cosmetics industry and, later, in executive recruiting. Fluent in French and Italian, she studied at the Sorbonne and the University of Perugia as well as Fordham, where she earned a bachelor's degree, a master's degree, and a doctorate in French literature.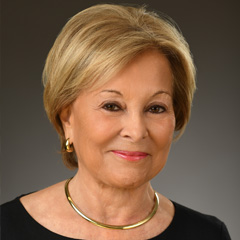 Barbara Dane, Ph.D., GSS '67, '85, Professor Emeritus, Clinical Social Work in Palliative and End of Life Care, NYU
Barbara Dane, Ph.D., GSS '67, '85, is a retired professor of clinical social work who has also been in private clinical practice with dying and grieving persons and their families since 1971. She began her studies at Holy Family College and graduated in 1965. She earned both her M.S.W. and her Ph.D. in gerontology from Fordham University.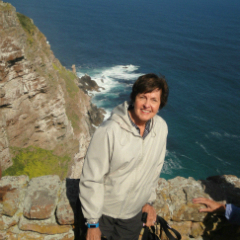 Valerie Rainford, FCRH '86, Head of Advancing Black Leaders and Diversity Advancement Strategies, JPMorgan Chase
Valerie Rainford, FCRH '86, is head of advancing black leaders and diversity advancement strategies at JPMorgan Chase. As a member of the Human Resources Operating Committee, Valerie is charged with partnering with the firm's Operating Committee and head of talent management and diversity to deliver increased focus on attracting, hiring, retaining, and advancing top black talent at all levels of the organization.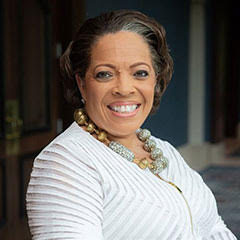 Susan Conley Salice, FCRH '82, is the president of The Salice Family Foundation. She earned a bachelor's degree in psychology from Fordham College at Rose Hill and a master's degree in fundraising and philanthropy from New York University.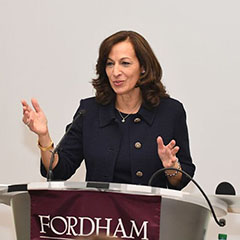 Donna Smolens, FCRH '79, GSAS '81, Senior Advisor, Insight Partners
Donna Smolens, FCRH '79, GSAS '81, joined Insight Partners, a leading global private equity and venture capital firm, in 2015 as a senior advisor. Prior to Insight, she was a managing director and co-head of the North American research and due diligence team at Portfolio Advisors LLC.