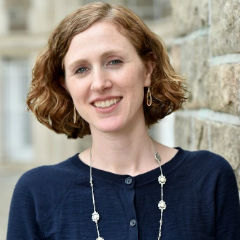 Dr. Mary Beth Werdel is the director of the Pastoral Mental Health Counseling program at Fordham University. She received her doctorate in Pastoral Counseling from Loyola University Maryland. She currently teaches both clinical and research classes for graduate level pastoral care and counseling students. The classes she has taught include Research for Pastoral Counselors, Death, Dying and Bereavement, Marriage and Family Therapy, Group Counseling, and Clinical Internship. She serves as a mentor and reader on PhD dissertations, DMin major papers, and MA major papers.
Dr. Werdel's research focuses on the intersection of spirituality and well being during times of loss, stress, and trauma. She is currently conducting a research study focused on spirituality as a positive and negative coping resource for parents raising children with an Autism Spectrum Disorder.
Dr. Werdel has made a number of presentations in the area of stress related growth. She was the plenary speaker at the American Association of Pastoral Counselor's Mid-Atlantic conference in 2014. She was the invited speaker at the National Association of Veterans Affairs Catholic Chaplain 2011 conference. Additionally, she has presented at research conferences, continue education seminars, and public academic events.
Dr. Werdel has written two books. A Primer of Posttraumatic Growth co-authored with Dr. Robert J. Wicks was published by Wiley in 2011. As Faith Matures: Beyond the Sunday God was published by Ligouri in 2012. She has also published a number of peer-reviewed and popular articles in the area of stress related growth. Her clinical experience has focused on working predominantly with individuals, children and families who have experienced significant loss, stress or trauma. She has most recently worked as a bi-lingual Spanish speaking family therapist. In this role she assisted families who had recently immigrated from Mexico, El Salvador, and Honduras. She also completed a doctoral internship at the Wendt Center for Loss and Healing in Washington D.C. working with children and families who experienced complicated grief. She has extensive training in Relationship Enhancement Therapy, Child-Centered Play Therapy and Filial Therapy.
Dr. Werdel currently serves on a number of university and departmental committees. Most notably, she is currently serving a three-year term on the University Middle States Re-accreditation Steering Committee. She also serves as a reviewer for the American Psychological Association's Journal of Psychology and Religion.
---
BA, English Major, Education Minor, University of New Hampshire

MA, Counseling, University of New Hampshire

Ph.D., Pastoral Counseling, Loyola University Maryland

Stress Related Growth, Post-traumatic Growth, Spirituality and Psychological Flourishing

Werdel, M. B. (2016). Sacred Struggles. In Wicks, R. (Ed). Catholic Handbook of Prayer. Cincinnati, OH: Franciscan Media.

Werdel, M. B. (2014). Blooming in the Night: Themes of Self-Renewal in Posttraumatic Growth. In E. Maynard & R.J. Wicks, (Eds.). A Clinician's Guide to Self-Renewal, (pp. 153-187). Hoboken, NJ: Wiley.

Werdel, M. B., Dy-Liacco, G., Wicks, R., Coarrocjjo, J., & Breslford, G. (2013). The Unique Role of Spirituality in the Process of Growth Following Stress and Trauma. Pastoral Psychology. 10.1007/s11089-013-0538-4.

Werdel, M. B., & Wicks, R. J. (2012). A primer on posttraumatic growth: an introduction and guide. Hoboken, NJ: Wiley.

Werdel, M. B. (2012). As faith matures: Beyond the Sunday God. Ligouri, MO: Ligouri Press.

Clinical Integration

Death Dying and Bereavement

Group Process Theories and Techniques

Research Methods
Contact Information
441 East Fordham Road
Keating Hall 303
Bronx, NY 10458