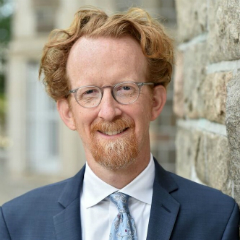 Dr. Beaudoin is interested in how what matters most to people comes about and is practiced, and particularly how the mattering and the practices are entangled in experiences, concepts and accounts considered "religious," "spiritual," "secular," or otherwise marked off as fundamentally special, different, powerful, or definitive.
His research areas include theologies, philosophies, and religious studies of practice; concepts and practices of religious disaffiliation and affiliation; comparative spiritual exercises across religions and cultures; powers of popular music understood as secularly/religiously/spiritually/theologically significant; and Pantheon (Rome) studies.
Dr. Beaudoin is a recipient of a grant from the Templeton Religion Trust for his project The Art of the Pantheon: Learning from Visitors. From 2021 to 2023, he serves as principal investigator for this project. The Pantheon in Rome has stood as one of the world's most impressive and influential buildings for nearly 2000 years. Built as a temple to "all gods" and a paean to Rome's global aspirations for conquest, it was consecrated a church in the seventh century. While centuries of visitors have rhapsodized in spiritual narratives about the building, there has never been a substantial study of what Pantheon visitors make of the space. This project intends to conduct such a survey and to relate its results to what architects have said the Pantheon means, on the one hand, and to what its Catholic ministers say it means, on the other.
M.T.S., Harvard University
Ph.D., Boston College

Theologies, philosophies, and religious studies of practice; Comparative spiritual exercises; Concepts and practices of religious disaffiliation/affiliation; Experiences of ultimacy: religious, spiritual, and secular; Popular music in theological and religious studies.

Virtual Faith: The Irreverent Spiritual Quest of Generation X (Simon and Schuster, 1998)

Consuming Faith: Integrating Who We Are With What We Buy (Rowman and Littlefield, 2003)

Witness to Dispossession: The Vocation of a Postmodern Theologian (Orbis, 2008)

Secular Music and Sacred Theology, editor (Liturgical Press, 2013)

"Postmodern Practical Theology," in Kathleen Cahalan and Gordon Mikoski (eds.), Opening the Field of Practical Theology: An Introduction (Rowman and Littlefield, 2014)

"White Practical Theology" (co-authored with Katherine Turpin), in Kathleen Cahalan and Gordon Mikoski (eds.), Opening the Field of Practical Theology: An Introduction (Rowman and Littlefield, 2014)

"Afterword: Reflections from Ecclesiology and Practical Theology" (co-authored with Bradford Hinze), in Christine Firer Hinze and J. Patrick Hornbeck II (eds.), More Than a Monologue: Sexual Diversity and the Catholic Church, Volume 1: Voices of Our Times (Fordham University Press, 2014)

"Why Does Practice Matter Theologically?" in Joyce Ann Mercer and Bonnie J. Miller-McLemore (eds.), Conundrums in Practical Theology (Brill, 2016)

"Secular Catholic Families and Ethics: New Questions, New Answers," in Julie Hanlon Rubio and Jason King (eds.), Love, Sex and Families: Catholic Ethics (Liturgical Press, 2019) [forthcoming]

Foundations of Practical Theology

Faith in Music

Spiritual Exercises Across Religions and Cultures

Doctoral Research Seminar

M.A. Integrating Seminar

Theology of Ministry
Contact Information
441 East Fordham Road
Keating Hall 303
Bronx, NY 10458