Student Liturgical Ministries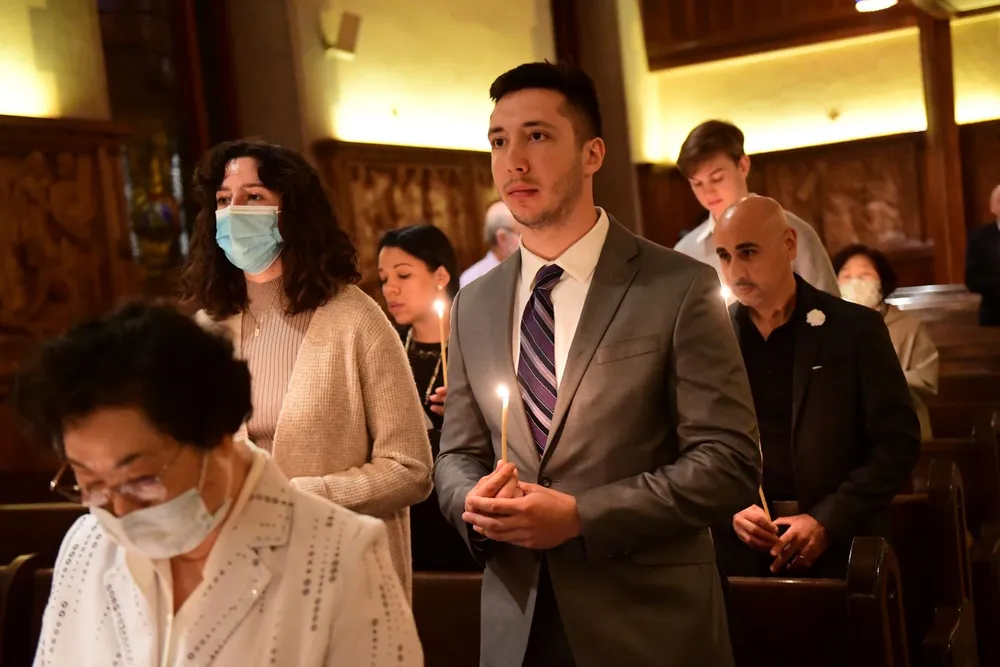 Easter Mass Liturgy
A group of parishioners and students standing at mass at the University Church for Easter holding candles.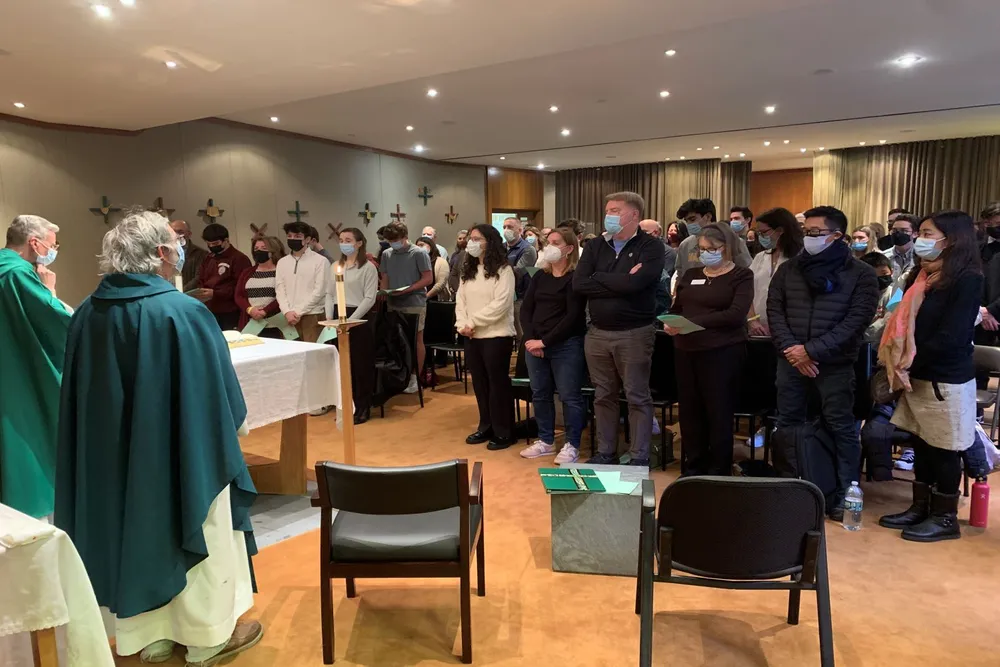 Parent Weekend Mass at Lincoln Center
Parents and students gather together at the Bl. Rupert Mayer SJ Chapel for Mass during Parents Weekend standing together facing the altar.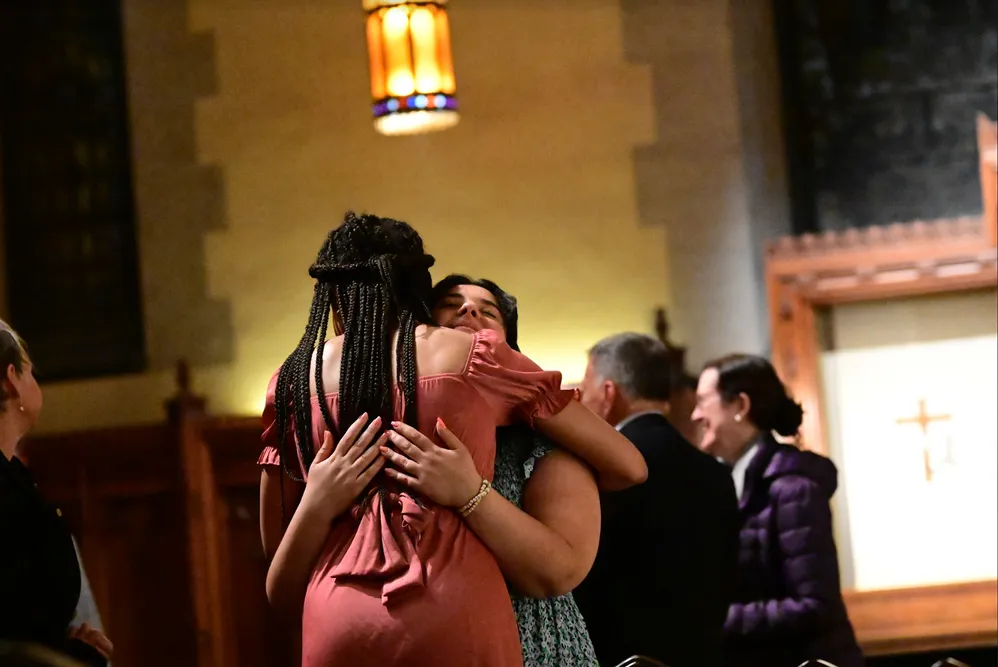 Peace at Liturgy
Two Fordham students hugging each other as they say peace during the Mass at the University Church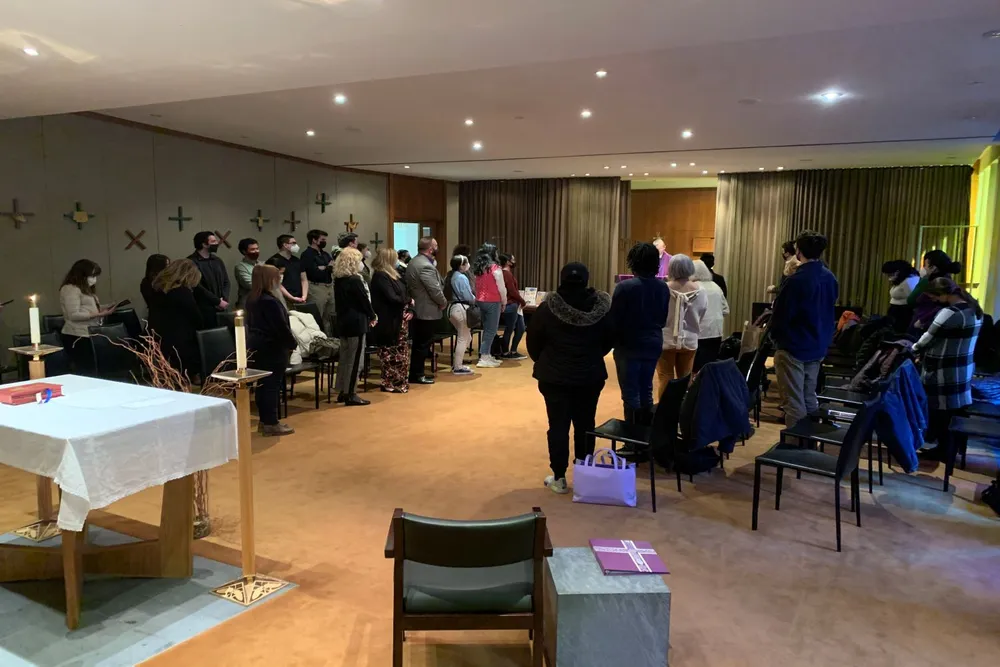 Mass Community at Lincoln Center
People gather together at the Bl. Rupert Mayer SJ Chapel for Mass and community.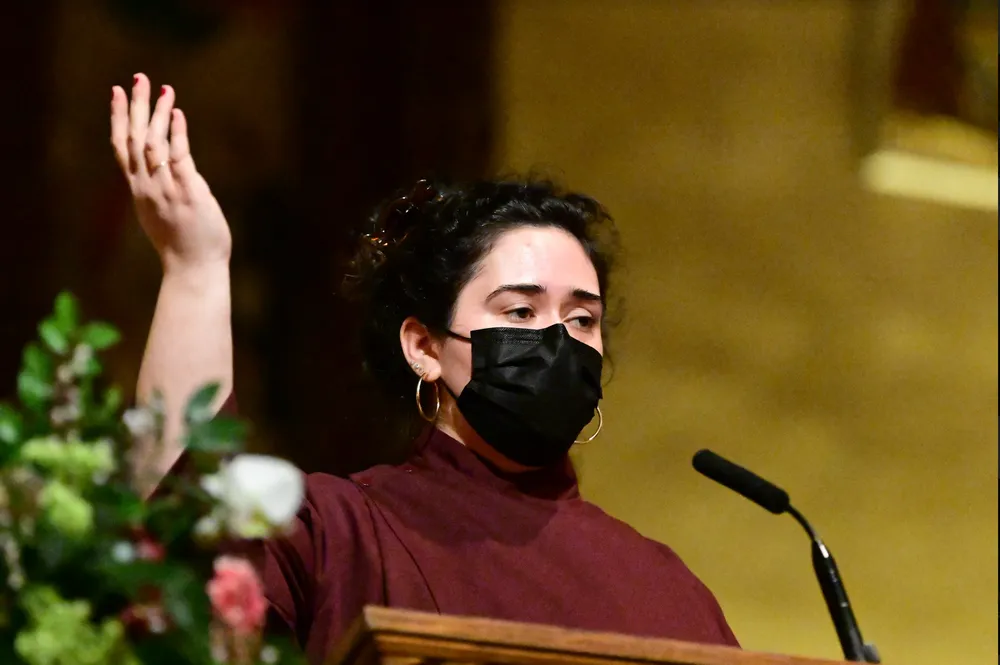 Lectoring at the University Church
Student lectoring at the University Church at a podium raising their hand to for the Mass to respond.
Catholic Liturgies at Fordham bring the community together to celebrate, give thanks, and ask God's blessing in our lives. Students are the soul of our community's worship and prayer. They play an active and integral role by serving at Masses and prayer services, taking leadership roles, and shaping and enlivening the way our community prays together.
---
Lift your voice and sing! Or read … or broadcast … or welcome … No matter your gift or interest, there is a way for you to live it out in our Fordham liturgies. Enrich our community worship by praying with us and by serving as a liturgical minister.
Altar servers play an indispensable role in the Mass and work closely as a team to assist the presider and and set up for the celebration of the Eucharist.

Eucharistic Ministers share the love of God by distributing the Body and Blood of Christ at communion.

Hospitality Ministers welcome the assembly and make everyone who enters the Church feel like a valued part of our community.

Lectors make God known by proclaiming the scripture readings and leading the assembly in prayer.

Media Ministers run web and radio broadcasts, extending our community to include those who are isolated or who can't make it to Church.

Sacristans assume responsibility and serve with confidence by setting up for our Sunday and daily Masses.
Student Leadership Initiatives
Student Liturgical Coordinators ensure that Mass flows smoothly, giving instruction and guidance to liturgical ministers. SLCs are leaders who empower ministers to do their jobs easily and with confidence. They also model reverence, prayerfulness, and maturity for the other ministers. Student liturgical ministers can apply to be Student Liturgical Coordinators after one year of service.

Representatives from each ministry, including music ministers, work together to train and support liturgical ministers. Board members plan and evaluate liturgies, work actively to build community among ministers and Mass-goers, and serve as mentors for new ministers. You can apply after one year of service.

Gather with your peers to reflect on upcoming Sunday readings and talk about how they connect to what's on your mind - and provide valuable feedback to our presiders as they prepare student-centric homilies. Anyone is eligible to participate!

Seniors work together to plan the Baccalaureate Mass, including nominating a homilist, recommending readings, and selecting classmates to offer a welcome and a post-communion reflection. The work of the committee ensures that the Mass reflects the experience and hopes of the graduating class.

Marriage Ministers take a leadership role in facilitating weddings at the University Church, welcoming the couple and their families, and coordinating with bridal party and staff.
Catholic Student Clubs and Initiatives
For more information about how to get involved with Fordham's Respect for Life club reach out to [email protected].

If you are interested in helping out with Catholic Relief services please email [email protected].

Praise and Worship is a student-led ministry within Campus Ministry that features contemporary Christian music, student reflections, Eucharistic adoration, and prayer. It's a wonderful opportunity to take a break and worship and pray with other students. If you're a singer or a musician we invite you to consider sharing your talents with the community!

For more information or to sign up to attend, please visit their website.

PAV is a multifaith and interfaith student-led community with the mission to accompany our Bronx and greater NYC area neighbors in prayer, service, solidarity, and reflection.

For more information about their initiatives and how to get involved please visit the PAV website.

For more information about the Jesuit Network (JesNet) here at Fordham email [email protected]