Community Engaged Learning Courses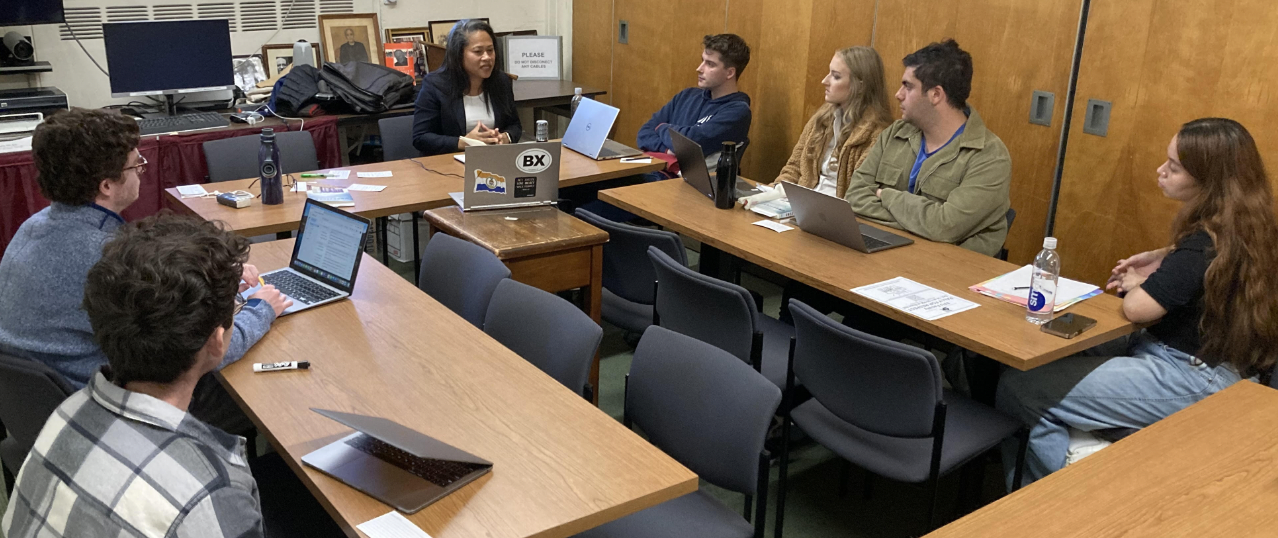 We learn by doing, and we grow as scholars and as citizens when we pursue curious and compassionate engagement with the world around us. Fordham's two campuses are not set apart from the city in which we reside and the neighborhoods we call home, but rather are integral parts of that city and those communities. Community engaged learning courses give students and faculty the opportunity to deploy the concepts and content introduced in the classroom in the complex and dynamic places and spaces we share.
"Focusing on how access to math and math education plays a role in social justice and democracy issues better opened my eyes to the ways in which education can be used to limit others and how having this knowledge is truly a privilege. Through going out into the Bronx community and seeing both the unfortunate circumstances as well as the amazing aspects further proved how people are using social justice to further progress and advance communities. Through community engagement exercises, I got to see what I was learning in Math and Democracy in real life, making the knowledge/information reality and therefore highlighting its immense importance."
"This has been one of the most unique classes I've ever taken. I loved how many different subjects - chemistry, biology, math, economics, business, ethics, and law - it was able to touch upon within one field: pharmaceuticals. It was a well-rounded, fun, and worthwhile learning experience."
"This project gave me unprecedented access into the world of nonprofit mechanics and helped me understand the scholarly basis that professionals use to design and implement programs that will benefit the community."
"I have never gone into such depth in any course for social justice before, especially not in a theology course. I really appreciated the teaching style and openness of my professor. I was able to make many connections to current situations through the history that I was taught in this class."
"This spring I took Francophone Communities in NYC which allowed me to understand the complexities of the lives of demographics such as West African immigrants, who are rarely spoken about in mainstream academia."
"By working with a faith-based organization with little funding, we were able to establish and create programming initiatives to improve their own community engagement and outreach. We utilized social justice ideals in hopes of creating events that would help merge two separated groups."
"Church in Controversy has probably been my favorite class of the semester and has helped me view the church. This is especially true today as the church often is hypocritical because its teachings are meant to uphold social justice yet they actively seek to undermine social justice as we often see today"
"Growing up in the Bronx and going to public high school, I always thought that private school students within the Bronx have it way better. Although they do have better schooling and more perks than public school students, I came to realize that they have barriers as Bronx high school students just as much as my peers and I from Bronx public high schools have had. There's a hierarchy to a system that needs to be dismantled. Getting to work with these students have made me appreciate youth thought and input. They have made me realize, even more, how important community engagement and input is when it comes to research."
"During the semester, we discussed mathematics and how it relates to society. We pointed out the importance of quantitative literacy, or the basic understanding of quantitative material, and how having quantitative literacy can give power to people. Being able to understand quantitative material, helps better one's understanding of society and often statistics are thrown around, but many people do not fully understand what they are saying. It helped me better understand that learning math is a privilege and it helps others and myself see disparity in our communities."
"Definitely helped me develop a greater appreciation and understanding of the systems that uphold or undermine justice. Overall, the Legal Framework of Business course was a great learning experience and I thoroughly enjoyed Professor Cappellos' teaching method."
"I feel that it helped further my understanding and opened my mind to the reality that some face every day and what I could do to help. Here, I was able to see the inside of these programs that help those in need and pull my weight."