Ph.D. in Computer Science
A cutting-edge discipline that delivers constant innovation and development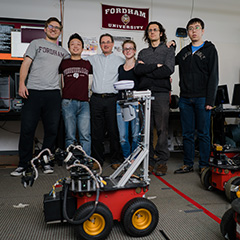 Fordham's Ph.D. in computer science is designed to educate the next generation of researchers, faculty, and industry leaders in a critical discipline that delivers constant innovation and development, while promoting ethically informed public interest technological research.
Program Highlights
With guaranteed support for five years, accepted students will have the opportunity to find their focus area while building a strong foundation across computer science fields and becoming grounded in computer science pedagogy.
The Curriculum requires 70 credits of course and research work.
Research training takes place within the first two years of the program
Classes are offered at our Rose Hill campus in the Bronx, NY, and our Lincoln Center campus in New York City
The program can only be entered on a full-time basis.
Candidates must demonstrate mastery of breadth coursework requirements and complete a research initiation project within 24 months of matriculation in the program.
Students are required to complete qualification examinations; present and defend successfully a dissertation prospectus proposal; and complete the depth course work requirements within 36 months of matriculation in the program.
Students will research, write, and defend successfully a Ph.D. dissertation within 60 months of matriculation in the program.
Study in New York City
With thousands of multinational corporations, New York offers unparalleled opportunities for you to expand your applied practical knowledge and learning horizons. You can explore a wide range of interests, with practitioners available nearby to discuss research ideas and an array of industries willing to grant access to their corporate data, all while having access to Fordham's state-of-the-art research lab.
STEM Designation
The Ph.D. in Computer Science is a registered STEM designated program, which permits a 24-month extension of post-completion Optional Practical Training (OPT), for a total eligibility of up to 36 months. Please consult Fordham's STEM Extension page for more information.
Train for a Successful Career
As a newly-minted Ph.D., you'll be in high demand both inside and outside academia. Fordham's Ph.D. in computer science will set you up as an in-demand candidate for jobs including:
computer and information research scientist
computer science professor
computer and information manager
computer network architect
information security analyst
Engaging Courses of Study
In Fordham's computer science Ph.D. program, research training taking place within the first two years of the program. You'll have the chance to study topics like:
machine learning and AI/robotics
big data analytics and informatics
data and information fusion
information and cyber security
and software engineering and systems
And you'll take foundational and advanced courses like:
Computer Language Theory
Computer Algorithms
Cryptography
Internet of Things
Ensemble Methods
Robotics
Computer Vision/Image Recognition
Explore our Graduate Programs
Attend an upcoming virtual information session to learn more about our Ph.D. in Computer Science program, the benefits of a Fordham education, and how to apply.
The virtual session is dedicated to our Computer Information Sciences (CIS) department and highlights our Ph.D. in Computer Science and the three Masters of Science programs; Computer Science, Cybersecurity, and Data Science.
Accelerated Master's Program: Bachelor's and Master's in a total of five years (4+1)
Fordham's undergraduate students have the opportunity to earn their master's degree with only one year of study beyond your bachelor's degree. Visit the GSAS Admissions Events page for upcoming Accelerated Master's information sessions dedicated to Fordham undergraduate students.