Master of Arts in Philosophy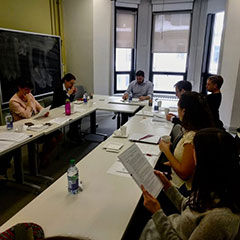 Dare to Think
The study of philosophy has been hailed in the media as the superstar of the humanities for producing graduates skilled in critical reasoning and creative problem solving. Where better to study this in-demand discipline than Fordham, where we've been teaching philosophy for more than 150 years?
Committed to philosophical pluralism, our faculty is renowned for its strengths in continental philosophy, epistemology, medieval philosophy, metaphysics, the philosophy of religion, and ethics. In our program, you'll gain a deep understanding of philosophical issues and approaches from historical and contemporary perspectives. In keeping with the Jesuit tradition of eloquentia perfecta—clear, effective writing and speaking—you'll also be encouraged to publish and present original research.
By developing your ability to analyze issues and construct arguments, you'll have a competitive advantage, whether your goal is to enter a doctoral program or to pursue a career in any number of fields including law, business, marketing, and publishing.
Program Highlights
Gain a sophisticated grasp of ancient, medieval, modern, and contemporary thought
Attend symposia, conferences, and public lectures in the New York City area
Study under highly regarded faculty members who are editors of well-known journals and book series
Program Basics
Curriculum requires nine courses for a total of 27 credits including one course each in the major historical areas
Evening classes available to accommodate part-time students
Capstone project or thesis required
Careers
Our graduates go on to Ph.D. programs and careers in teaching, marketing, publishing, and more.