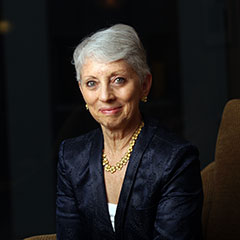 Harriet Edelman, GABELLI '80
Keynote: Building a Plan for Philanthropy
Harriet Edelman, a highly accomplished senior executive and director with more than 30 years of experience in consumer goods and financial services, is vice chairman of Emigrant Bank, the largest privately held, family-owned and -run community bank in the nation. Since 2008 she has been responsible for information technology, finance, and credit loan administration for Emigrant Bank, the New York Private Bank & Trust, and all subsidiaries.
Edelman began her career with Avon Products Inc., rising quickly to executive leadership positions in virtually every function, including marketing, business transformation, new product development, and sales. As chief information officer, she was responsible for all aspects of IT and supporting operations in 100 markets covered by 6 million sales representatives. As senior vice president of the global supply chain, she led production and distribution of more than 3 billion products annually, and oversaw construction of Avon's new facilities in Latin America, Asia, and Eastern Europe. At Avon, Edelman was a member of the company's executive and global finance committees.
Edelman has served on large public company boards in the United States and Europe, spanning consumer goods, retail, hospitality, life sciences, financial services, and technology sectors, and she has been a trustee of major nonprofit institutions. She currently serves as director, Brinker International Inc.; director, Assurant Inc.; and vice chair of the board of trustees, Bucknell University. Previously, Edelman served on the board of UCB, a global biopharmaceutical firm; Ariba Inc.; the Hershey Company; Blair Corporation; and New York Blood Center.
Edelman received an M.B.A. in marketing and operations research from Fordham University and a bachelor's degree from Bucknell University. She has been a guest lecturer around the world, speaking on leadership, technology, women's advancement, diversity and inclusion, and business strategy. Edelman's daughter, Julia, entered Fordham University School of Law in the fall of 2018.