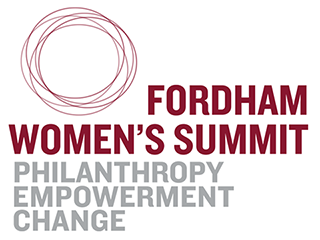 The Fordham Women's Summit is a unique opportunity for Fordham alumnae, faculty, and friends to discuss and celebrate their achievements as leaders, activists, and philanthropists, as well as attend professional and personal development sessions.

From the comfort of their own homes, more than 400 Fordham alumnae, parents, faculty, and friends tuned into the 2020 virtual Summit from locations around the globe. They listened to expert financial advice and heard from panels that explored topics like personal resilience, maintaining a career—and a household—amid a pandemic, and relinquishing the need for perfection.
Save the date for the fifth annual Fordham Women's Summit: Wednesday, October 20, 2021!
View 2020 Summit News Coverage Watch the 2020 Summit
2020 Keynote Speaker
Mary Ann Bartels, GABELLI '85, GSAS '92: Turning Financial Literacy into Philanthropy
An educational discussion to encourage and empower women to achieve financial freedom to express their current and future goals. As women have become a financial force in the economy they can impact and support their main philanthropic interests now more than any time in recent history. Come and attend our event to explore how you can create an important legacy.

For more than 25 years, Mary Ann Bartels has been regarded as a thought leader on Wall Street, helping institutional and individual clients craft effective investment strategies. She most recently served as head of the Research Investment Committee and exchange-traded fund strategy at Bank of America Securities. She is passionate about helping women develop the knowledge and confidence to create their own financial plans for personal and philanthropic success.
2020 Panels
Thank you to our 2020 Sponsors