If you have any questions about the retreat ministry or would just like to talk over which retreat experience might be best for you, please contact us, and we'll be happy to tell you more!
Our Director:
Stephanie Roddy
Spiritual Retreat Ministries
McShane Campus Center
CMCE Suite 215
[email protected]
718-817-4539
---
Meet the Student Leaders:
As leaders, we have all experienced the awesomeness of retreats ... the peace, the friendship, the laughter, the quiet times, the hope, the joy, (the food!), and most importantly, the love of God that makes it all possible! Whatever your particular reason for joining us on retreats, please know how happy we are to share the journey with you and that we'll do all we can to help make your experience as comfortable and enriching as possible.
---
Alessandra Carino was born and raised in the boogie-down Bronx and has been singing and dancing ever since-- in her words, she WILL start singing in the middle of a sentence, with Christian music being her favorite genre. She's now a senior whose major is undecided at the moment but she's interested in Theology and Italian. Alessandra is very involved on campus between JesNet, leading a CLC, serving as a liturgical minister, and being an active member of the Commuting Students of Association, she's always on the move, but you might catch her hanging out in her favorite places on campus, the commuter lounge and the Ignatian Room. Campus Ministry is wehre Alessandra feels she's found her family on campus, and getting involved in retreats has brought so much joy into her life. She is so excited to enjoy the natural beauty of Goshen this upcoming year, making new friendships and unforgettable memories as a member of the retreat team!
---
Amalia Sordo Palacios is a member of the Class of 2023 planning to major in Neuroscience. She was born in Venezuela, and she's lived in 5 different places, but now her and her family live in San Antonio, Texas. She loves to read, bike, and play water polo (ask her about the club team she's starting with fellow retreat leader, Megan Farr!). Amalia is an Urban Plunge leader, is part of the Autism Speaks club, and frequents Praise and Worship on Wednesday nights! She's excited to meet new people on retreats and grow more in her own Catholic faith. If you need to find her on campus, look in the math help room!
---
Ana Pena Gutierrez is originally from Monterrey, Mexico, but by the time she was 18, she has lived in 5 different countries! She is a student at Fordham University Lincoln Center where she studies Global business and marketing. She love cooking and baking, especially Mexican dishes that remind her of her family. A fun fact about her is that she loves doing things that scare her, she even swam with sharks! She has joined the retreat team because she had such an amazing experience at her past PRISM retreat and wanted to give that same feeling to other people. She also wants to find ways to deepen her faith, navigate how her faith interacts with her sexuality, and help others do the same!
---
Benedict Reilly hails from Manhasset, New York. He's super smart and majors in Theology and Humanitarian Studies. As a part of the class of 2023, he's enjoying every second of his senior year! He's also an author, and recently received the samples of his book Queer Prayer at Fordham. Besides that, he's also a research fellow at the Center of Religion and Culture, and works in the Office of Admissions. That's just to name a few of his many roles! When not working, he likes to run and play Clash of Clans. His favorite place to be on campus is Duane. It should also be noted that he shares a birthday with Kulture (and his twin, Jack). The retreat team is ecstatic to welcome him as a leader, and he's really looking forward to growing in love and fostering a joyful and welcoming outlook on spirituality.
---
Bette Danganan is a senior at Fordham Lincoln Center/Ailey Dance School. Originally from Chicago, Bette didn't expect to go to Fordham at first, but they now love exploring the city on the weekends and attending dance shows/concerts with their friends. Bette is excited to join the retreat team and to be part of a new community at Fordham after attending FreshVision their first year at LC. When they're not attending retreats or dancing for school, Bette loves to sing and play their ukulele and write poetry. Above all else, Bette is eager to make close friends with retreatants and leaders in Campus Ministry.
---
Eli Taylor was born in Daegu, South Korea on November 1, 2000. Graduating in 2023, he is a Business Administration major with a concentration in Management and a minor in Philosophy in the Gabelli School of Business. He is from New Milford, Connecticut and lives on campus at Rose Hill. One of his favorite memories at Fordham is participating in Lessons and Carols, and he loves to sing. He hopes to work in the Campus Ministry office one day too! Some of his hobbies include cooking, hiking, electronics, building computers, and being outdoors. He found Catholicism in high school, and his faith has been important to him ever since. Eli loved going on Cor Retreat and is now extremely excited to be a part of Retreat Team because he loves spending time at Goshen and wants to deepen and grow his spirituality.
---
Emma Lipkind is a rising senior at Fordham College at Rose Hill majoring in International Political Economy and French with a minor in Journalism. Emma is originally from Holland, Pennsylvania, a small town in Southeastern Pennsylvania. She finds a spiritual connection within the nature of her hometown (which ironically looks a lot like Goshen) and within her Jewish faith. She loves to crochet and is on the e-board of the Fordham Crochet Club. Emma is excited to be a retreat leader for the first time this year, and for the community Goshen fosters.
---
Michela Fahy is a senior at FCRH from Cedar Grove, NJ. She is studying English and Humanitarian Studies while also minoring in Italian. She spent the last spring semester abroad in Italy where she experienced many "pinch me moments" such as writing short stories at various monuments for her fiction writing class. Back at Fordham, Michela is incredibly active on campus. In addition to retreat team, she is a Pedro Arupe volunteer, a senior captain for Urban Plunge, a copy editor for FURJ, and the president of Students for Fair Trade, just to name a few. Some fun facts about Michela are that she is a twin and doesn't like the moon. Who knew!? She loves being a retreat leader because she is passionate about building community and being a source of encouragement for others.
---
Miranda Nardone was born on March 19 in Kingston, Pennsylvania, a small town near Scranton. She is an artist at heart so at Fordham, she decided to major in New Media and Digital Design and minor in visual arts. In fact, art is so important to her she has spent at least 10 minutes drawing each and every day for the past 8 or so years. Other than art, family is very important to Miranda. It is not rare to hear her talking about her brothers or her friends – her chosen family. In fact, she is a proud host of weekly Fr-amily Dinners. On campus you can find Miranda in the plaza or in the McKeon Law Library doing design work or spending time with friends. Miranda can't wait to get back to Goshen to spend intentional community time and lounge on the Goshen fireplace couch!
---
Olivia Stern is a senior at Fordham Lincoln Center, class of 2023. She is currently a Journalism major, and she even writes for the Fordham observer. When she is not busy writing articles, she enjoys reading, cooking, going to coffee shops, hanging out with friends, and working her job at the public library. If you want to say hi, you can often find her in the comfy Argo Tea chairs or at her job at the Performance Arts Library! Outside of Fordham life, Olivia loves camping with her family and travelling. Coming from a small town church near Milwaukee, Wisconsin, she is excited to continue retreats in college and meet new people, especially from Rose Hill.
---
Greg Licciardi was born in Livingston, New Jersey, and now resides in Milburn. This young man of the class of 2024 is a neuroscience major at Fordham Rose Hill. His highlights from the last year include performing at Carnegie Hall and working with Fordham Dance Marathon. In his free time, Greg enjoys playing guitar, and speaking at brain cancer awareness events, as he is a brain cancer survivor himself. Greg's life-giving motivator is his love of service; naturally he is attracted to the retreat team, and is excited to lead and serve others in their spiritual journey.
---
Isabella Salvucci is originally from Pittsburgh, PA. Studying economics at Fordham University with a minor in fashion studies and theology. In her time outside of class she sings in the university choir. She is not only extremely passionate about singing but she also loves fashion. Family means a lot to Isabella, she has a big family who she loves to spend time with. The reason why she chose to be a retreat leader is because she enjoys being able to deepen her faith and help guide others in their spiritual journey. Being a part of the retreat community enhanced her college life significantly because of how extremely inclusive, loving and supportive the community is.
---
Kate Laboda
---
Lindsey Berry
---
Tate Allen
---
Krystal Monegro is a Bronx-born member of the class of 2025 at Fordham College Rose Hill who's incredibly excited to start her journey as a retreat leader! As a psychology major, Krystal can be found working in a lab as well as being an active member of C-STEP, an organization that promotes and supports historically-underrepresented communities in STEM fields on campus. Outside of academic endeavors, she can be found dancing with Candela Latina, reading, crocheting, and binging Netflix. Most impressively of all, she can touch her tongue to her nose!
---
Lauryn Sweeney
---
James Haddad was born in White Plains, New York, but spent a lot of time with his grandparents in Queens while growing up. He's a rising sophomore majoring in finance in Gabelli and next year he'll be an RA in CSC. One of his favorite memories from last semester was going to Philadelphia with the Gaelic football team and in his free time, he is very involved in Gaelic society, plays intramural flag football, hangs out with friends, and is an altar server. Some fun facts about him are that he's ginger, has a sixteen-year-old sister, and recently saw Joe Biden during a trip to D.C. This will be his first year as a retreat leader and he's most excited to build community, bring his friends on retreats, and create fun memories with the team. On-campus he can most often be spotted in the McShane center (aka the caf) and one thing on his Fordham bucket list is to go to every single CAB event during spring weekend.
---
Jonathan Fong is a sophomore at FCRH from Sacramento, CA. he is a member of the Fordham speech and debate team and is an altar server at the campus chapel. He is also a member of the Fordham Catholic life board and will be an intern with campus Ministry this fall. During his free time, Jonathan enjoys Cycling wherever he can, along with making and/or drinking different types of coffee. For his freshman year, Jonathan lived in Queens core and will be off-campus as a sophomore. On the retreat team, he's excited to be a resource in peoples spiritual journey and watch them grow and flourish.
---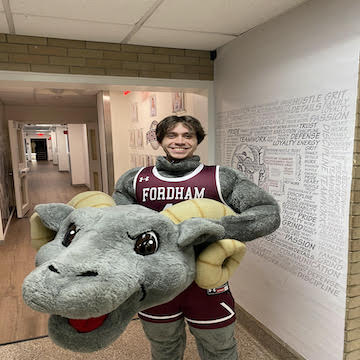 Will Gualtiere is a sophomore majoring in Film and TV with a Film concentration at Fordham College Lincoln Center. Originally born in the Bronx, he now lives in Connecticut. In addition to his involvement at Fordham as a retreat leader, he is a campus ministry intern, Student Ambassador in the Lincoln Center Society, and treasurer of the Splinter Group — the musical theatre club at LC. When it comes to Will's spirituality, he highly values community. He has previous experience being a retreat leader at his high school. Being a retreat leader at Fordham allows Will to be in touch with the Rose Hill community while deepening and exploring his Catholic identity. Here are some fun facts about Will! He loves to geek out in movie discussions with his friends and, when asked about his favorite film, he is quick to name Jurassic Park because of its "groundbreaking effects." He is highly anticipating the Summer 2022 Jurassic World Dominion double feature. In addition, during the Spring semester of his freshman year, Will had the honor of playing "the second of three pigs" in Shrek the Musical. He complements his musical theatre talents with his hobbies of reading, writing, and performing improv. On the LC campus, you can often find Will in the music practice room exercising his singing and acting skills. Impressively, Will has also camped for SNL over five times.